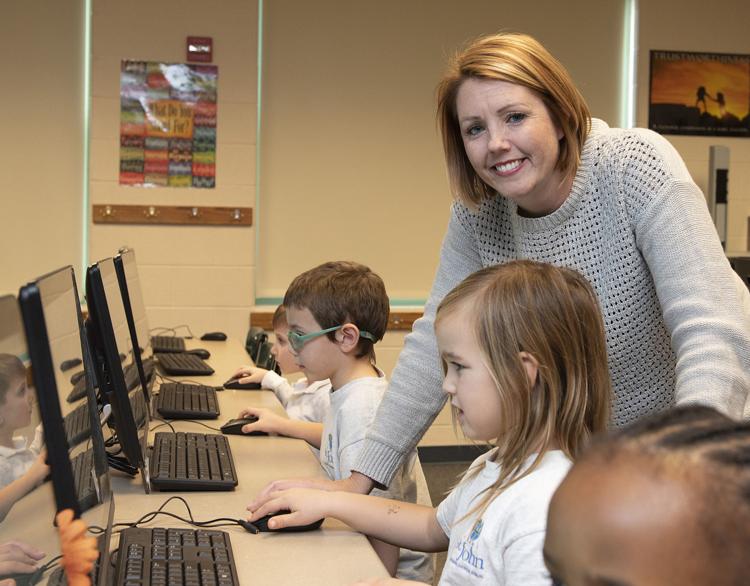 The following article was contributed by Emma Kerr of The Frederick News-Post. It appeared originally under the title "School Notes: The future of computer class."
Carrie Michaels-Anderson, computer teacher at St. John Regional Catholic School, gets one request from students over and over: to use her three 3D printers, awarded to the school through a grant.
Snowflake ornaments, little terrarium turtles, and complete animal habitats — the 3D printer and its computer program TinkerCad can seemingly do it all. Michaels-Anderson said once students get to third grade, they are able to manipulate the boxes and follow the steps on TinkerCad to design their own projects.
Her work begins even before third grade. Michaels-Anderson teaches kindergarten through eighth grade, leads the school in the Hour of Code, plans new Genius Hour opportunities, and oversees an after-school robotics league. The biggest challenge for her youngest students is transitioning from the iPad mentality to using a proper computer.
"My students come in here thinking they are giant iPads, and that's what they want to use. Well, they have to learn to use the mouse," Michaels-Anderson said. "So I do have students who struggle with that, but it's a good hand-eye coordination lesson."
She teaches kindergartners to find letters on the keyboard, how to type their names with capital letters and a space between first and last. Having taught for 17 years, Michaels-Anderson said she's seen some older students who experience a spark of interest in coding through an activity or event at school and then really take off with it.
For one 3D printing project, the snowflakes that eighth-grade students design have to be personalized to them. Students typically use their names and initials.
"I had one student — she was a swimmer — and that was something that was her life," Michaels-Anderson said. "She made her snowflake with goggles around the outsides of it. I took them home and spray-painted them with Liquid Diamond, and it made them shine. I put ribbons on them, we decorated bags and I sent them home to give to their parents as an ornament."
The 3D printers are an opportunity for cross-curriculum work, and are often incorporated into other class instruction. TinkerCad, which is a free program online with activities tailored to students, calls itself "the best thing in education, since education itself." The site includes 3D Design, Electronics, and Codeblocks. Students can develop simple drag-and-drop skills, or learn the basics of circuit programming.
Some of her lessons, however, go beyond the technical skills required to design printable figures or code a robot's movements. Michaels-Anderson's role as computer teacher increasingly extends beyond teaching typing skills to students who are often very digitally literate. Michaels-Anderson said she works to prepare students for the real world, as it exists online. Her very first unit is on internet safety, and as part of the Archdiocese of Baltimore, the curriculum she must teach includes teaching good digital citizenship.
Over the years, she's seen more students becoming active on social media at young ages. But there's also a group of students each year who do not use any form of social media and say they never will. That's not always possible, she warns them. Michaels-Anderson said her instruction aims at giving students scenarios and complex issues they may face in their relationship to the internet for the class to explore.
"I spend time with the students talking to them about their online reputation. What they post on social media matters," Michaels-Anderson said. "I bring real-world examples, so that they can see positive things and what can happen if they make a bad decision."
Previously a second-grade teacher, Michaels-Anderson said she's enjoying the chance to work with all 500 students at each grade level as computer teacher.
In addition to Mrs. Michael's computer lab, St. John Regional Catholic School has a school wide 1:1 technology program giving student access to technology any time throughout the day. They have a state of the art wireless network that supports 450 wireless devices. Their middle school's 1:1 program provides each student with a Chromebook. Students in 6th, 7th, and 8th grades can communicate with teachers, turn in assignments virtually, and access all of their work from home without transporting textbooks and worksheets using their techbooks.
SJRCS has found that iPads are better for our younger students due to the interactive nature in software programs. The ease and quickness of educational apps enhances the curriculum. Mobile carts are available on demand for grades K-5. Students build digital portfolios from the day they start at the school. Teachers receive continual professional development to keep up with cutting edge practices to integrate technology in the classroom.
The newest and possibly most successful piece of the STEM program is the "Makerspace Classroom." This classroom helps increase students' ability to think critically, problem-solve, and collaborate, portraying the essence of a 21st century curriculum. Students have class time built around a "Maker" curriculum. Class time spent in the Makerspace provides creative time for students to build prototypes, explore questions, fail and retry, bounce ideas off one another, and build something together. The classroom includes state of the art technology including: 3D Printers, Coding programs, Little Bots, Lego Robotics, Connect Sets, Paper Circuits, and a Marker Stem Cart. The newest addition to the Makerspace at SJRCS is the Glow Forge printer that will allow students to design, program, and cut any object using glass, wood, ceramics, and even chocolate. This classroom provides children with unparalleled access to innovative technology used by engineers, astronauts on the International Space Station, medical professionals and scientists. SJRCS administration believes that teaching and "making" coexist to give students a well-rounded education. Due to the continual change in the demands of our future work force, students need room for tinkering, exploration, and multiple answers, instead of just right and wrong answers, and test scores.
St. John Regional Catholic School was founded in Frederick, Maryland, in 1829. As one of the oldest Catholic schools in the state, their mission has been to provide a Christ-centered environment and an exemplary education to each and every student within the framework of the Gospel and the traditions of the Catholic Church. The goal of our faith community is to develop future leadership for the 21st century through academic excellence, service to others, and a firm foundation of Christian virtues.
They were recognized for academic achievement by being announced a 2017 National Blue Ribbon School of Excellence. This is the second time SJRCS has received this prestigious honor; the previous designation was awarded in 2009. Students are testing within the top fifteen percent of the nation. Due to their award winning STEM curriculum they received a STEM endorsement from Notre Dame University of Maryland. This is the stepping stone to STEM accreditation from AdvancED which is the highest achievement in STEM education.
If you would like to find out more information about SJRCS, please visit www.sjrcs.org or contact Kathy Kinsey at kkinsey@sjrcs.org.