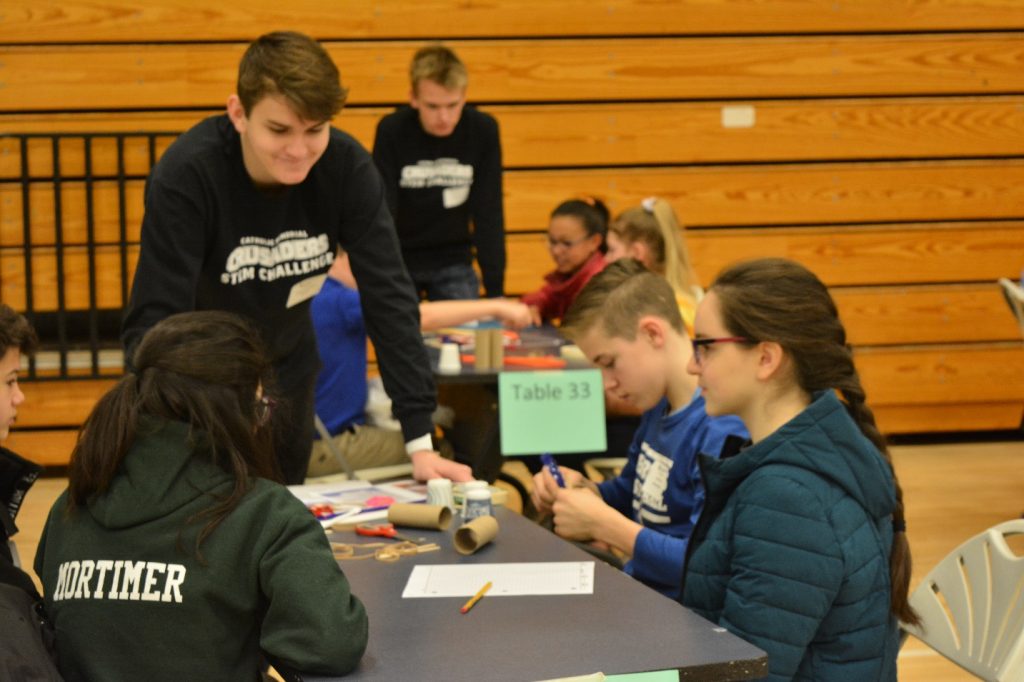 The following blog was contributed by Mary E. Petrie, Innovation & Entrepreneurship Department Chair, PROPEL Program Leader and Engineering Teacher at Catholic Memorial High School in Waukesha, WI.
What happens when you put 265 middle school students from 28 different public and private schools and 74 high school students together in a gym, divide them into teams of strangers, give them some basic materials like popsicle sticks, paper, balloons, tape, rubber bands, and paper clips and ask them to build a flying device that takes off and lands from the same table?
Chaos, right?
Now, add mentors from Catholic Memorial High School, trained in a design thinking model, known as "Memorial Propel," which was developed and trademarked by the school, and what do you get?
Innovative learning in an exciting competition known as the Catholic Memorial High School STEM Challenge!
Catholic Memorial, located in Waukesha, WI, introduced the "STEM Challenge" in 2015 as a way to recruit students. Since then, it has grown into a highly anticipated community event that draws nearly 300 students and has captured the attention of local media.
Catholic Memorial High School STEM students mentor teams of middle school students in the art of design thinking using Catholic Memorial's award- winning, trademarked design thinking process called "Memorial PROPEL." Created by a team of Catholic Memorial High School educators, the unique program emphasizes communication, creativity, collaboration and critical thinking. Our faculty and students are continually trained in this innovative process, which is integrated across all content areas. The STEM Challenge allows CMH students to mentor younger visitors, practice their leadership skills, and facilitate a model of what collaboration looks like in the real world.
Isaac Barta, a 2018 Catholic Memorial graduate involved in the STEM Challenge for 3 years, reflected back on his experience: "One concept that is highly emphasized in school is leadership. In school we are taught to lead people of our age, but that is only one piece of the leadership puzzle. I was involved as a leader in multiple peer organizations. The STEM challenge is different. Because the students involved are younger, they look up to you. This means that as a mentor I had a greater responsibility because not only was I coaching them, but I was also acting as a role model. In this way, the challenge has helped me grow because my ability to lead improved, and also my understanding of what it means to be a leader in varying situations was further developed. I know the insight I gained from this opportunity helped me get into the Naval Academy."
To imitate a real-workplace experience, visiting middle school students are divided into teams with three other students who they have never met. They have to work collaboratively to complete the STEM task. Communication, critical thinking and creativity are emphasized. The students have 2 – 3 hours to finalize their design, which includes documentation in engineering notebooks, building and testing their prototypes.
Teams then use their prototype to compete against other teams in bracket-like contests. Awards are given to teams with the most innovative designs and the best performance. Parents are invited to attend the competition portion of the day.
Engineers and other STEM professionals from area businesses spend the day with the students encouraging them, answering questions, and sharing their business knowledge as the students are working. These same industry professionals act as judges for the competition.
In fall of 2018, the Catholic Memorial STEM Challenge won an educational award from the Wisconsin STEM Forward Organization.
Grade school student Noah Diedrich writes about his participation in the STEM Challenge: "The Catholic Memorial STEM Challenge impacted me in different ways. One of the impacts that it has had on me was that I realized my passion in life. What I hope to do is go to a college like the Milwaukee School of Engineering and study mechanical engineering. The experiences I had helped me better understand the impact that engineering can have on the world. That is something that I find very exciting. The STEM Challenge also impacted me as a student. I really enjoyed the problem solving and hands on work that goes with engineering. During the STEM Challenge, we learned about the design thinking process and how to use it when working with others. The design thinking process has helped me learn how to think outside of the box when approaching a problem."