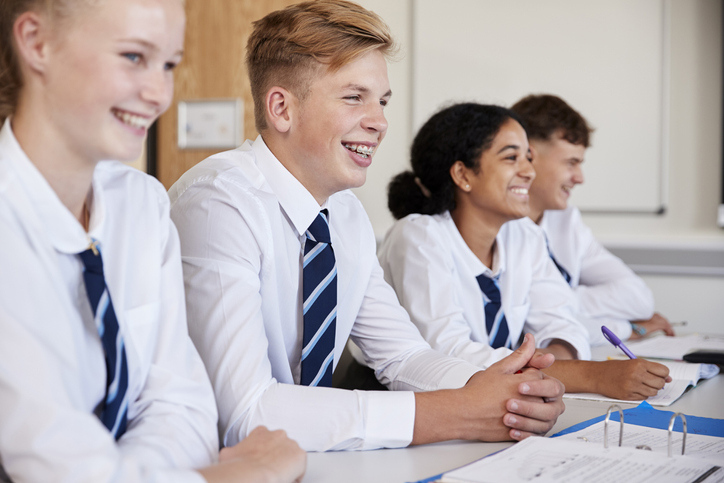 This blog was contributed by Annette Jones, Ed.S., Assistant Director for School Leadership at the National Catholic Educational Association (NCEA) in Arlington, VA.
Congratulations to Matt R. Grosser, St. Mary School in Alexandria, KY; Jack V. Nelson, St. George School in Baton Rouge, LA and Deborah C. O'Neil, St. Bernadette School in Northborough, MA who were recently named 2019 National Association of Elementary School Principals: National Distinguished Principals! NCEA congratulates and thanks them for their dedicated and highly effective leadership in Catholic education.
This award winner's best practices in his school can inspire you! Principal Nelson shares his insight for cultivating a positive climate and utilizing curriculum mapping. In reading his responses, what can you take away as a new or improved practice in building academic excellence, leadership skills and a positive climate for your school?
Do you know an excellent elementary principal? Check out the nomination process for the 2021 Lead. Learn. Proclaim Award in late spring of 2020.  From the pool of elementary principals named 2021 Lead. Learn. Proclaim. awardees, three elementary principals will be invited to submit a packet for the National Association of Elementary Principals, National Distinguished Principals Award! Now is the time to think of a dynamic elementary principal to nominate for this prestigious accolade!
Mr. Nelson, how do you cultivate, monitor and advance a positive climate in your building?

"I believe one of the most effective ways to foster a positive climate in our school is to be visible and present. We are in the relationship business. As a leader it is my responsibility to develop a positive culture and relationship with our shareholders. In regards to faculty and staff, I make an effort to attend a grade level meeting at least once every nine weeks with each grade level. Additionally, I make an effort to have small conversations with teachers and staff and "check in" with them on a regular basis.
I am an advocate for our students. Scheduling regular visits to classrooms, spending time outside at pick up and drop off times, walking through the playground, attending school sporting events and band concerts, etc. lets students know that I care about them. Leadership opportunities are given to students through student government and they feel they have a voice at St. George. They know they make an impact at their school. 
I believe that I am approachable to all and a willing listener. I try to work with parents on our consultative boards and communicate clearly the mission of our school. My years here at St. George have afforded me many opportunities to build on traditions and engage others in advancing our mission. As a community, we work hard every day to develop and advance our mission of educating the whole child in a distinctly Catholic environment."
Mr. Nelson, what is one effective academic strategy utilized at St. George School?
"One strategy that St. George School implemented to achieve National Blue Ribbon School of Excellence status was to comprehensively map all areas of the curriculum to align with the Diocese of Baton Rouge Learning Standards. Curriculum mapping is the process indexing or diagramming a curriculum to identify and address academic gaps, redundancies, and misalignments for purposes of improving the overall coherence of a course of study.  Curriculum mapping is important because it allows teachers and administrators to find balance between the content across curricula. 
The process of implementing curriculum mapping was as follows: The curriculum mapping committee directed the purchase of the curriculum mapping software and determined the curricula areas to map.  A consultant was brought into our school, so that teachers could learn about curriculum mapping.  We established a leadership cadre in our building. After the training, the school started implementing curriculum mapping by subject areas and grade levels.
Curriculum mapping is an effective planning tool that can set up short term and long-term instructional goals.  When curriculum maps are in place, teachers can trace the previous knowledge and skills of their students and build on them.  One participant noted, 'You know what they've seen, what they were supposed to have seen, what they have supposedly mastered and at what level they saw that.'  Curriculum mapping helps ensure that all students are getting the same education and the same foundations.  As a result of St. George School's success, curriculum mapping has been implemented across the Diocese of Baton Rouge beginning in 2017."
Again, congratulations to Matt Grosser, Deborah O'Neil and Jack Nelson!  We look forward to your special celebration in October 2020, Washington, DC.