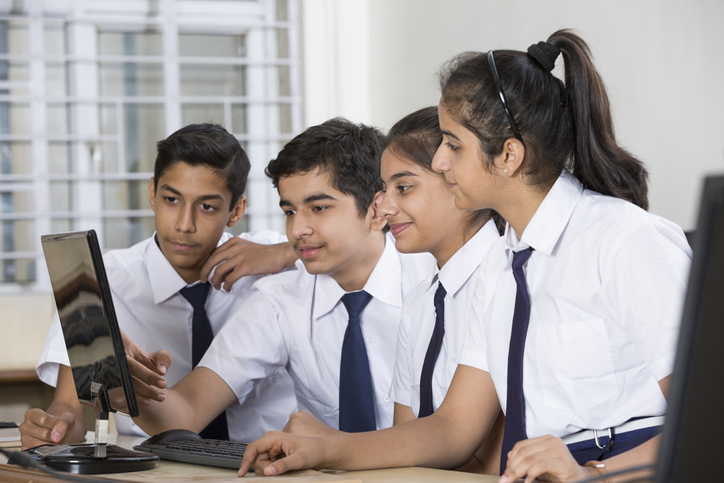 For the past year, high school junior Max P. has been an intern in the marketing department at NWEA in Portland, Oregon. Since it's not often we get to hear detailed student reactions to assessments, we thought we'd go straight to the source and invite Max to write a guest blog sharing his experience taking MAP Growth as a high school placement test.
Hi, my name is Max P., and I am a junior at De La Salle North Catholic High School. I like to cook; paint and I am interested in photography. Some of my favorite subjects in school are math and science. I am generally a shy person, but this job has helped bring me out of my shell.
I didn't take MAP Growth until I was an eighth-grader (entering ninth grade). Before that, I went to a very small elementary school. They tested students' reading, writing, math and science with a much more hands-on approach, working with students one-on-one. I often felt safe and sheltered, which at the time was good. Looking back, I feel their hands-on approach may have set me up for a harsh reality later in my education; I was not prepared for the typical approach to teaching, and testing.
When I went to middle school, we took the OAK test, Oregon's summative assessment. I didn't like the OAK test because it felt too robotic. It was as if the school system was trying to brainwash us all into total compliance. Nobody wants to feel programmed. Granted, all tests will make you feel this way in some way or another. However, it is nice when the test isn't so formulaic you can't even focus on it without feeling sick.
Unlike most students, I didn't discover MAP Growth until the end of middle school. I was in the process of choosing which high school I was going to attend. This was a hard choice for me because I had so many options to pick from; all of them seemed great. De La Salle used MAP Growth as a placement test for the new freshmen. As with all tests, I did my research. I was expecting another standardized test that I would have to drudge through and regret taking. However, I was pleasantly surprised by MAP Growth's uniqueness and personality that seemed to set itself apart from other tests.
The week before the test started, I reviewed subjects to feel prepared for the assessment. I was nervous about the new school, and the people that come with it. My dad is a teacher, and he was very engaging and understanding about my nerves around the test.
The classroom itself was very welcoming. The computer lab was organized and felt homey. All the 8th graders seemed nervous to be in a new environment. We didn't know what to expect, or who to expect. It helped that upperclassmen were there to volunteer and make us feel welcome. I was glad the school cared about its students and community.
When we had all finished, the teacher in charge asked our group how we felt about MAP Growth. A few spoke and seemed to reflect the thoughts I had in my head; It was still a test, but it was better than most. We felt connected to the test, and less nervous because the test was more on our level. It was nice to have teachers genuinely engage with the students, lessons, and learning. MAP Growth made me feel more comfortable in a new and challenging environment by showing me what lies ahead in my high-school experience.
I'm not sure what scores I had gotten on MAP Growth, although I remember the teachers talking to each student and giving different amounts of feedback and attention depending on the scores the students got. Because MAP Growth can adapt to the individual student, I feel it helped me understand what subjects I was strong in, and what I needed help with. Many tests don't bother to see students as different beings. MAP Growth was a good placement test because it helped my teachers and me know where to go moving forward.
Most students dislike testing and want nothing to do with it. All too often it is seen as a chore and a stressful forced experience, rather than a challenge to grow. I would be lying to say MAP Growth was "fun" as an eighth-grader. However, I did see it as a more engaging experience than previous testing structures. It felt easier to absorb information and learning than other more formulaic tests.
As students grow older, we start to have more opinions about what and how we like to learn. Since we are all people who learn differently, some learning styles work better for some and not for others. I think it would be interesting to blend different types of learning into our testing: hands-on, visual, audio, and artistic ways to stimulate our brains in the most engaging way possible.
Testing shouldn't have to feel stressful. You learn best when you feel comfortable and trust your teachers and environment. We should continue to innovate assessments and expand on the ideas of MAP Growth; seeing students as people, not numbers.
---
About the Author
Max P. is a junior at De La Salle North Catholic High School and an intern in the NWEA marketing department. When he's not zipping through Salesforce and helping out with projects, Max likes to cook and dabble in photography.