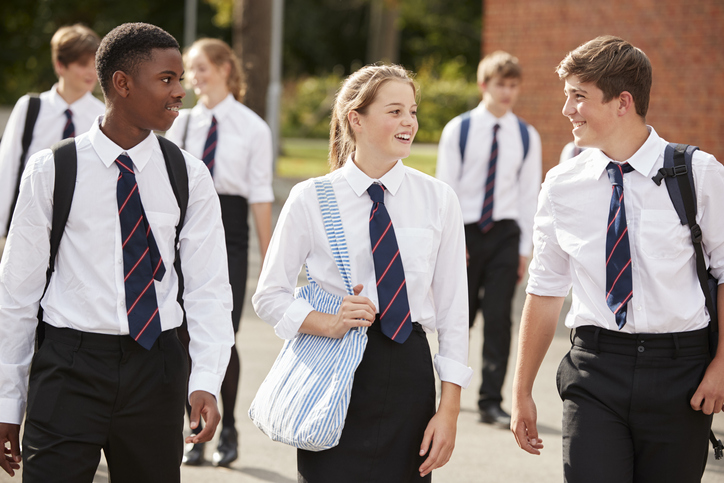 The following blog was contributed by Philip Dujardin, theology teacher at the Cambridge Matignon School in Cambridge, MA.
Our Catholic schools have been nurturing the faith and evangelizing to families since they were established. In fact, nurturing and sharing the faith have always been their primary purposes. They should be celebrated in this time of uncertainty. It is time for our Church to declare a "Year of the Catholic School."
Within a culture that challenges the idea of truth itself, most public educational institutions deliberately avoid acknowledging God. In contrast, Catholic schools offer students a sense that God is in control. Most begin and end the day with prayer, dedicate an entire class period to religious instruction, and display faith-filled pictures, statues, crucifixes and words of encouragement in their rooms and hallways. Surrounded by these reminders, teachers and students grow in confidence that the Lord loves them and has the power to overcome all evil.
Celebrating a "Year of the Catholic School" will rejuvenate a vital ministry of the Church. Our Catholic schools are facing a major crisis. It is time for all Catholics to acknowledge Catholic schools as a priority. Just as God wrote the Bible through human authors, God built our Catholic schools through the sacrifices of parishioners, families, priests and religious brothers and sisters, most of whom responded to a call from God's Self to serve.  God anointed them with a vision that is still as important as it was when the schools were founded.
Our urban Catholic schools offer opportunities for disadvantaged youth, combating racial inequities inherent in many school districts. A "Year of the Catholic School" could garner support from within and beyond the Church. Some believe that our schools should be able to stand on their own, that if they cannot sustain themselves then they need to close. The reality is that Catholic schools are ministries, not small businesses.  All schools, especially those that serve the poor, need support from all Catholics. Catholic schools, especially those that serve the poor, would benefit from public funding. Celebrating our schools would provide an opportunity to promote school vouchers, giving struggling families the same choices granted to the well-to-do. Latino families would recognize Catholic education as an option that supports their deep faith as well as academic opportunity, providing schools with an influx of students that would sustain them.
It is vital that our schools be a place where Catholic teachings can be taught. A "Year of the Catholic School" would solidify the connection between the official teachers, our bishops and those who teach on a daily basis in our schools. Priests, bishops and families would recognize the good work of our schools. Dioceses would encourage and equip them to promote the faith as taught by the magisterium. There would be an opportunity for real dialogue between school communities and bishops about why the church teaches what it does and how this can be promoted.
By celebrating a "Year of the Catholic School," communities of faith would honor the work of these institutions to educate so many in the faith, past and present, many of whom are still in the pews of our churches. Imagine the possibilities. We could strengthen the trust between clergy and the schools, garner much needed public support for our schools, mend the pain that school closings have caused families who fought to keep them open, advertise our remaining schools to families and discover creative ways to make Catholic education available, especially to the poor. A renewed commitment to Catholic schools will provide hope in a world that needs it.