Celebrate Catholic Schools Week
An annual tradition since 1974, Catholic schools across the nation commemorate Celebrate Catholic Schools Week with celebrations, Masses, open houses, and activities for students, families, parishioners, and community members. These events showcase and celebrate the rich traditions and the incredible value of Catholic education on both a local and national level. Each year, Celebrate Catholic Schools Week is celebrated during the last week of January. This year, Celebrate Catholic Schools Week will be celebrated from January 30 through February 5, 2022.
Cause for Celebration
According to NCEA, there are nearly 6,000 Catholic schools nationwide. These schools—serving elementary, middle, and secondary school students—are located across all regions, giving many families the opportunity for accessible Catholic education, which has many benefits, including:
The integration of faith with academic subjects, culture, and everyday life
The emphasis of living out the faith as missionary disciples
Catholic virtues and values and Catholic Social Teaching, which contribute to productive citizenship and responsible leadership
An environment that encourages and nurtures prayer and is safe, welcoming, and supportive for children
A favorable student-to-teacher ratio
High graduation and college attendance rates
Teacher commitment.
Each year, Celebrate Catholic Schools Week has a theme. The theme for this year is Catholic Schools: Faith. Excellence. Service. Within the overarching theme for Celebrate Catholic Schools Week, there are also daily themes, focusing on a particular celebration.
Celebrating Your Parish on Sunday
On the opening day of Catholic Schools Week, many parishes devote a Mass to Catholic education. These celebrations show the connection between Catholic schools and parishes and reflect the support and guidance parishes provide. Families and catechists can prepare children and students for this Mass by reflecting with them on the support they witness through the assembly of school, Church, and community. Students can be reminded that Catholic school students, families, and supporters are gatherings all over the country as they are beginning Celebrate Catholic Schools Week at Mass in their own parishes!
Celebrating Your Community on Monday
On Monday, the daily theme focuses on service to the community. When students participate in school, parish, or community events, they have the opportunity to live out their faith and embody the values they are acquiring through their Catholic education, all the while helping to make the world a better place.
Celebrating Your Students on Tuesday
Help students understand their roles in Catholic education by recognizing their accomplishments. Consider a fun school-wide gathering that celebrates student or class achievements in relation to the theme of Catholic Schools: Faith. Excellence. Service. Bring to light the differences students can make as they learn in faith, strive for excellence, and serve in their schools, communities, and the world.
Celebrating the Nation on Wednesday
On Wednesday, the focus of Catholic Schools Week shifts from the local to the national level and provides an opportunity to express to government leaders the value and importance of Catholic education.
Celebrating Vocations on Thursday
On Thursday, a focus on vocations helps students recognize and use their God-given talents and be open to God's call in their lives. Opportunities to reflect, with a focus on service and vocations, lets students consider and explore paths where they may use their gifts and talents to serve God and others.
Celebrating Faculty, Staff, and Volunteers on Friday
During Catholic Schools Week, Friday is an opportunity to show appreciation to the teachers, principals, administrators, and faculty who dedicate their time and talent to Catholic schools. A prayer of thanksgiving and a heartfelt "thank you" allows students to express their gratitude to those who have chosen to follow God's call in the field of Catholic education.
Celebrating Families on Saturday
Catholic Schools Week concludes on Saturday with a focus on family. Families play active and vital roles in Catholic education. Families also provide a child's first introduction to the faith and continued faith formation as the domestic Church. On Saturday, families are celebrated and appreciated for their love, faith, partnership, and example.
A Resource to Support Your Celebration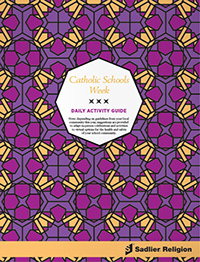 Let the Catholic Schools Week Daily Activity Guide help you incorporate daily themes suggestions into your observation of Celebrate Catholic Schools Week! With this resource, you can kick off Catholic Schools Week with a thematic opening prayer service and then find suggestions for focusing your celebrations on the daily themes throughout the week. Sadlier honors and celebrates Catholic Schools for their valuable work and contribution to the Church and the world.