Written by Lincoln Snyder, President and CEO, NCEA, [email protected]
By now you have heard or read that for the second year Catholic schools have grown.
NCEA data shows Catholic school enrollment grew by 3.8 percent in 2021 – 2022 and rose again by .3 percent in 2022 – 2023. Catholic schools currently enroll 1,693,493 students in 5,920 schools across 175 dioceses.
Of note:
Pre-Kindergarten enrollment for 2022 – 2023 is higher than before the pandemic
The fewest Catholic schools closed or consolidated in two decades
More than 39 percent of Catholic schools report wait lists
Record numbers of new families came to Catholic schools during the pandemic because of their commitment to in-person instruction, and they have stayed because they see the difference our communities make in the lives of their children. Teachers change lives and Catholic school teachers showed up for their students before, during and after the pandemic. Sixty percent of Catholic schools have stable or increased enrollment over last year.
Excellent academics are one of the many reason that Catholic schools enjoy a consistently strong reputation. According to the current National Assessment of Educational Progress (NAEP) report, Catholic school students performed at or near the top in reading and math compared to other private and public-school students and in learning outcomes for students receiving free and reduced-price lunch. We serve all well who come through our doors.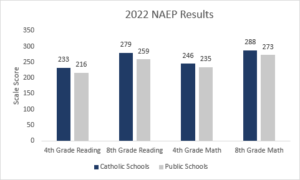 Catholic schools continue to innovate to meet the needs of families by expanding offerings, including preschools, virtual Catholic schools, International Baccalaureate programs, international students, classical schools and dual language immersion schools. The iconic parochial school is evolving to meet the needs of its local communities. Where the U.S. population has grown, so has Catholic school enrollment.  
Expansion of parental choice programs has long been viewed to support parents as the primary educators of their children. Currently 10.5 percent of Catholic school students use a parental choice program and 27.6 percent of Catholic schools enrolled students using parental choice programs. Thirty-two states and the District of Columbia offer school choice programs; Iowa and Utah, both of which already had programs, recently expanded school choice to include more families across the states. Catholic schools benefit the nation providing at least $23.4 billion a year in savings to taxpayers.
Academic excellence, a solid partnership with parents, teachers with a demonstrated commitment to being there for their students, a sense of community and a Christ-centered and service-oriented education is the legacy that has characterized Catholic school education for generations.
Catholic schools are a bright spot in education today, reflected in the national data showing an upward trend in enrollment shifting from decline to resurgence. Catholic schools are a benefit to the entire nation and worthy of ongoing support.