Dear Catholic School Leaders:
Sister Dale, NCEA Vice President of Public Policy, and I attended a meeting at the U.S. Department of Education last week, and we learned that Catholic schools' participation in the NAEP assessment has declined to the point that, if it falls further, they will likely not be able to report our data. This would be a tremendous loss for us because NAEP data demonstrates Catholic schools' superior performance, which is a huge part of the Catholic school advantage—and not obvious to our parents and potential parents unless we have the numbers to prove it.
The article "The Nation's Report Card and Your Private School" shared below was penned by Dr. Ron Reynolds, executive director of the California Association of Private School Organizations (CAPSO) and a good friend of Catholic schools.
I also invite you to take a moment to review the Overview of NAEP for Private Schools and the FAQS on the last page to find answers to important questions you might have.
If your school is invited to participate in NAEP in this next round, please say yes. Not having this data would be a terrible loss for Catholic education.
Peace,
Lincoln Snyder
---
Beginning in September 2023, a handful of the nation's private schools will be invited to participate in the 2024 administration of the National Assessment of Educational Progress, also known by its acronym, NAEP, and its more popular designation, The Nation's Report Card. If your school is among those selected to form a nationally representative sample, here are four reasons why you should say "yes" to NAEP.
1. Participation in NAEP is a civic responsibility
When, in 1969, Congress called for the provision of "…a fair and accurate measurement of student academic achievement and reporting of trends in such achievement in reading, mathematics, and other subject matter…" private schools were explicitly included in the authorizing legislation. In so doing, our lawmakers affirmed the view that America's private schools contribute significantly to the education of the public.
Alarmingly, private school participation in NAEP has fallen short of the threshold required to report results as a national group. In recent administrations of the assessments, only Catholic schools have (mostly, but not always) participated in sufficient numbers to permit reporting. The decline in participation has not been lost upon Congress, where NAEP enjoys strong bipartisan support. Some lawmakers have quietly begun to question why hundreds of millions of federal dollars should be made available each year to provide "equitable services" to private school students and educators, when growing numbers of private schools decline to participate in NAEP.
Private schools have rightfully taken pride in their longstanding commitment to community service. Yet, when asked to render service to the nation, far too many are missing in action. In saying "no" to NAEP, private schools are not only shirking their civic duty, they're flunking The Nation's Report Card by default.
2. Participation in NAEP is easy
It is not only a small fraction of America's private schools that is invited to participate in NAEP, but a fraction of a school's students. When a school agrees to participate, a random sample of students at a relevant grade level is selected by the National Center for Education Statistics (NCES), which administers NAEP on behalf of the U.S. Department of Education. In a typical administration of NAEP testing, students will spend a total of 75 minutes answering items.
The NAEP assessment schedule calls for the "Main NAEP" assessments in reading and mathematics to be administered to students in grades 4 and 8 every other year (with 12th grade students assessed every four years). Participating schools have flexibility in choosing dates and times. On the day of the assessment, NCES representatives bring Chromebook tablets with them to the school, and even furnish routers, should it be burdensome or impossible for a school to make a wireless network available. Schools need only supply tables, chairs and, of course, the pupils who will have been identified in advance. The identities of participating schools and students are never disclosed in the reporting of NAEP results.
3. NAEP provides a level playing field
NAEP is the only large-scale assessment that enables valid "apples-to-apples" comparisons between students enrolled in public, public charter and private schools. NAEP test items are developed independent of any state, regional or other large-scale assessment. NAEP scores are never reported for individual schools or students. There are no schools that "teach to the test," no How you can ace NAEP books, and no NAEP tutorial companies.
NAEP test items are developed through a complex, rigorous, multi-year process conducted by NCES, in partnership with the National Assessment Governing Board (NAGB), an independent, nonpartisan body that sets policy for NAEP. Drawing upon input provided by teams of content experts, teachers, researchers, policy makers, parents, students, focus groups and members of the public-at-large, assessment frameworks are created and periodically updated for each content area. NAEP frameworks provide the closest thing we have to a consensus view of how we currently understand a given content area, and how competency in a subject can best be demonstrated and measured.
NAEP results are reported in two ways: by average scale scores achieved by various groups of students, and by the percentage of students in various groups that perform at-or-above each of three NAEP achievement levels – NAEP Basic, NAEP Proficient and NAEP Advanced. NAEP achievement levels are unrelated to either grade level proficiency or state standards for public schools. Like NAEP frameworks, NAEP achievement levels are the closest thing we have to a national consensus about a continuum of knowledge and ability denoting varying degrees of competency in, and mastery of core academic subjects.
4. NAEP adds to the value proposition for private schools
Grounded in differing philosophical and religious orientations, private schools reflect multiple understandings of human nature, child development and pedagogy. Their structure and operations reveal varying approaches to organization, finance, staffing and governance. Given their diversity, private schools offer a robust model of pluralism in American education.
Can a pluralistic education system work? Given their diversity, do America's private schools achieve results that compare favorably to those produced by public schools? By capturing the diversity of the nation's private schools in a nationally representative sample, NAEP is uniquely qualified to furnish empirical data that speak to those questions while informing efforts to improve academic performance. But it can only do so if enough private schools participate.
In June 2023, NAEP released the results of its Long Term Trend Assessment in reading and mathematics for 13-year-old students. What made this assessment particularly noteworthy (and newsworthy) is that it furnished something akin to a pre-test and post-test wrapped around the COVID-19 pandemic. As the figure appearing below shows, in addition to achieving post-pandemic (i.e., 2023) scale scores that were twenty points higher than those of their public school counterparts, the nation's Catholic school students showed no statistically significant post-pandemic decline in scores.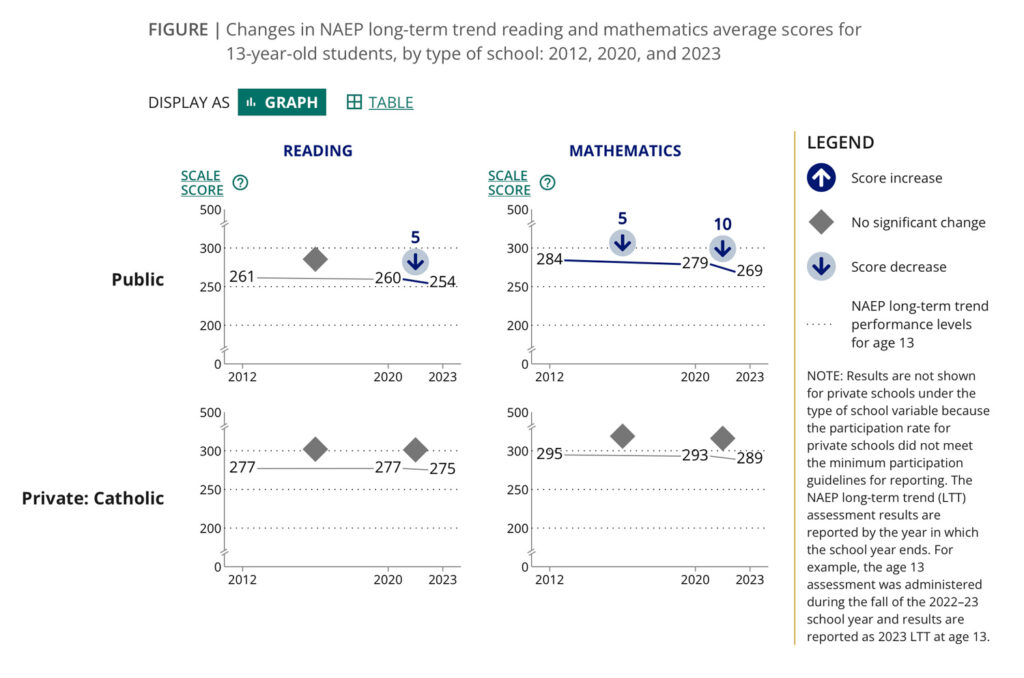 Unfortunately, as the legend explains, results could not be reported for private schools overall, owing to an inadequate rate of participation. Private school educators had worked tirelessly and oftentimes heroically throughout the course of the pandemic to assure continuity of high-quality instruction for every student. NAEP scores could have furnished the nation with empirical evidence of the fruits of those efforts, if only enough private schools had participated.
Say 'yes' to NAEP!
The primary reason private school administrators say 'no' to NAEP is lack of knowledge about what NAEP is and how it is administered. A great many resources are available to those interested in learning more about The Nation's Report Card. This NCES webpage is specifically intended for private school administrators, staff and stakeholders. It features a two-minute video titled, "The Importance of Private School Participation in NAEP," offers a host of background materials including an "Overview of NAEP for Private Schools," and provides an opportunity to discover what it's like to experience a NAEP assessment.
Should private school leaders have questions, or seek additional information about participation in NAEP, they can also contact NAEP Private School Coordinator Michael Fassbach, either by email at [email protected] or by phone at (240) 314-2423.
By saying 'yes' to NAEP, private school leaders can guarantee that no future administration of The Nation's Report Card receives a grade of incomplete.
Ron Reynolds is Executive Director of the California Association of Private School Organizations and a member of the National Assessment Governing Board.