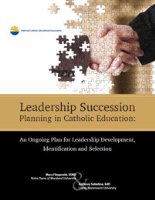 Leadership Succession Planning in Catholic Education: An Ongoing Plan for Leadership Development, Identification, and Selection
By: Mary Fitzgerald, SSND and Anthony Sabatino, Ed.D.
The fundamental elements of successful leadership succession in any organization are recognizing the inevitability of leadership change and the necessity of a plan for leadership succession. This book provides a rationale and planning guideline for board chairs, superintendents, and superiors of religious communities to use when the need arises to hire a new leader. The tools presented are an adaptation of typical leadership succession planning utilized in other professional educational models, non-profit organizations, and public and private businesses.
$25 Member/$38 Non Member Price – Available at the NCEA store: wwww.ncea.org/store.