You asked for it and we made it happen: NCEA is pleased to announce that Momentum is now available for online reading!  Members are now able to view Momentum as soon as it is available. The interactive platform is optimized to adapt to whatever device you are using including computers, tablets and smart phones.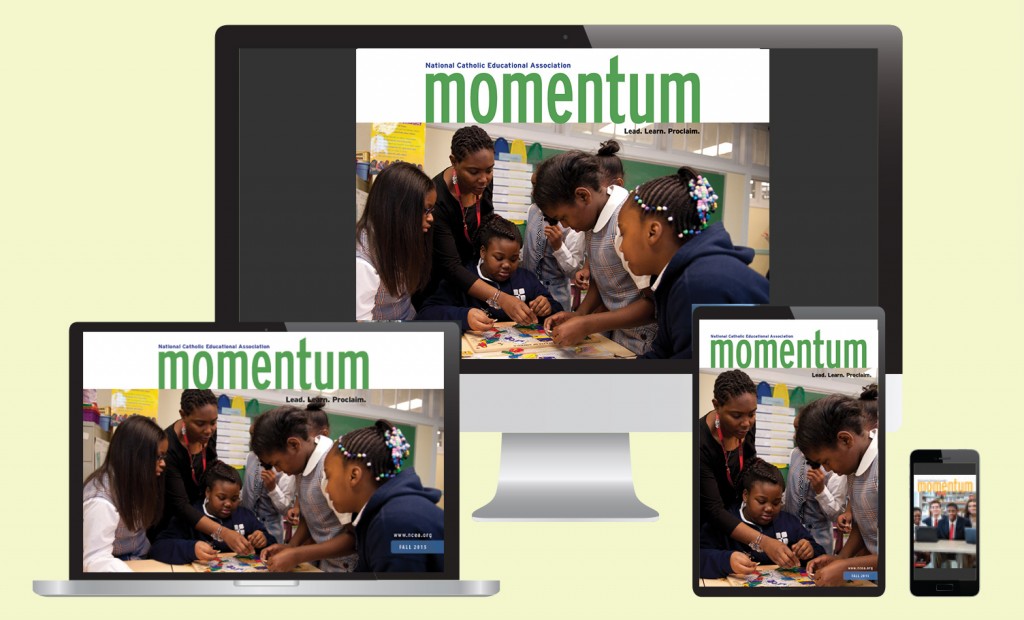 Click here to view the Fall 2015 issue!
Here are some ways you can explore our content:
EXPLORE by clicking on the "Table of Contents" icon on the top left of the online magazine to jump to your favorite departments, articles and sections of Momentum.
DOWNLOAD and save a PDF of the original article by clicking on the bottom left "Download PDF" button.
CLICK the "share" button on the top right to share via Facebook, Twitter, Pinterest or LinkedIn or to email to your colleagues, governing bodies, parents or other community members!
SEARCH for topics such as "Catholic Identity" or "Leadership" to immediately find all relevant content to those interest areas.
PRINT articles that are relevant to your current projects.  Share them with staff or governing bodies at meetings, use them as resources for accreditation processes or in the classroom, and build your own library.
NCEA will still be sending the print version of Momentum.  The print version of the Fall 2015 issue will be available in mailboxes shortly.
NCEA is continually working to improve all our member publications, including Momentum and NCEA Talk.  Please share your feedback with us about how you've used our content, what you find useful and what you'd like to see in the future.  The digital version of Momentum will be available for public viewing through spring 2016, at which time it will be moved to the members-only section of the NCEA website.
In order to ensure that all teachers in Catholic schools receive this member benefit, member schools should send an updated roster of teacher and staff email addresses.