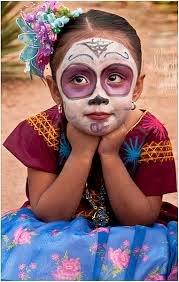 The following post is a resource contributed by Mickie Abatemarco, Assistant Director of Professional Development at NCEA.
Halloween is fast approaching and the traditional ghosts and goblins will be knocking at our doors. But have you ever wondered where the tradition comes from? Halloween marks the eve of the feast of All Hallows Day, and for many cultures this signifies the beginning of the Day of the Dead.
The Day of the Dead coincides with the Roman Catholic festivals All Saints and All Souls Day whose traditions are celebrated in many cultures including Central and South America, Italy, Spain and the Philippines.
In Central and Southern Mexico, parties take place in the cemeteries and alters are built in homes to honor family members who have passed on. The belief is that the gates of heaven are opened at midnight on October 31 and the spirits of all deceased children are allowed to reunite with their families for 24 hours. On November 2, the spirits of the adults come down to enjoy the festivities that are prepared for them. The Day of the Dead is much more than a celebration, it is a day that focuses on family and friends gathering together to pray for and remember those who have passed on as well as help support their spiritual journey.
Like most cultures, food is an essential part of family celebrations. Pan de muerto, the "Bread of the Dead," is one of the many special candies and foods are prepared on this day. A plastic small skeleton is baked into each loaf, and it is considered good luck to bite into the skeleton.
It's important to help our students understand the cultures and traditions surrounding them. Please take a moment to share activities and ideas with them.