The following post was contributed by Jim Pavlacka, Director of Leadership Development and Pam Bernards, Director of Professional Development, at NCEA.
On Tuesday, December 2, we had the pleasure of attending a presentation on the research and application of an Early Childhood Bilingual Program being implemented in the Fall of 2016 at The Academy of St. Matthias the Apostle Catholic School in Lanham, Maryland.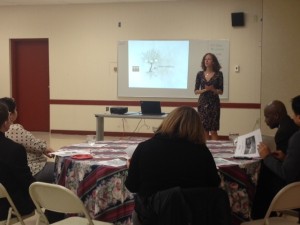 A number of local, diocesan, state and national level Catholic school dignitaries and officials were in attendance. School principal, Abigail Greer, explained that in consultation with the Archdiocese of Washington they conducted research on the demographics, needs and desires of the school, parish and local communities. Her findings determined that the institution of a bilingual program would not only stabilize the vitality of St. Matthias as a desirable Catholic school, it would potentially double its enrollment.
Principal Greer has done extensive work with Boston College's Two-Way Immersion Network for Catholic Schools (TWIN-CS Program) and has integrated the program's methods and philosophies. The TWIN-CS Program is a national initiative that advances biliteracy and bilingualism in Catholic elementary schools by effectively coordinating research, expertise and practice. The model that St. Matthias has adopted is a weekly Spanish-English model whereby each subject will be taught for one week in Spanish and then continue the following week in English. This weekly rotation occurs throughout the entire school year. St. Matthias is starting at the Pre-K and Kindergarten levels in the Fall of 2016 and then adding one grade level each year over the next 9-10 years.
If you would like to learn more about the Early Childhood Bilingual Program at St. Matthias and the outstanding work they are doing, Principal Greer can be reached at agreer@stmatthias.org or 301-577-9412. Congratulations to one of our outstanding member schools on a job well done…onward and upward St. Matthias!