This post was contributed by Sr. Patricia M. McCormack, IHM, Ed.D., Director at the IHM Office of Formative Support for Parents and Teachers.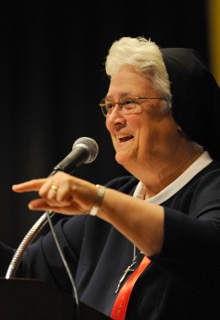 Please join us on Wednesday, March 30 (11:00-12:15AM) as Sr. Patricia M. McCormack, IHM, Ed.D. will present "Communicating Effectively with Parents and Teachers".
COMMUNICATING EFFECTIVELY WITH PARENTS AND TEACHERS
Communication that is characterized by respect, integrity and openness is key to administrative leadership. It requires an ego replaced with grace! Compassionate communicators focus on safeguarding human dignity. They seek to restore right relations and they strive to be agents of formative support to the person with whom they speak.
Catholic school leaders cultivate the attitude of working WITH parents and teachers – that is, being an agent of Wisdom, Initiative, Truth and Hope. Compassionate leaders embrace the attitudes expressed in the Peace Prayer of St. Francis . . . "O Lord, make me an instrument of your peace."
Within this context session participants will focus on six learnable skills that will enable them to connect effectively with both parents and school personnel.
(1) Adopt a Pro-Active Perspective. (2) Safeguard Personal Boundaries. (3) Learn to "Read" and "Feed" Emotional Hungers. (4) Speak the Truth in Love. (5) Demonstrate an "A Plus" Approach. (6) Facilitate Hope.
Of course these same skills must guide the communication style of teachers as they interact with students and parents. Session participants will be able to replicate the presentation to in-service their faculties.
You may visit the website at www.ParentTeacherSupport.org.
You can contact Sr. Patricia McCormack at: [email protected]