This post was contributed by Andrea Kopp, NCEA Educational Resource Manager.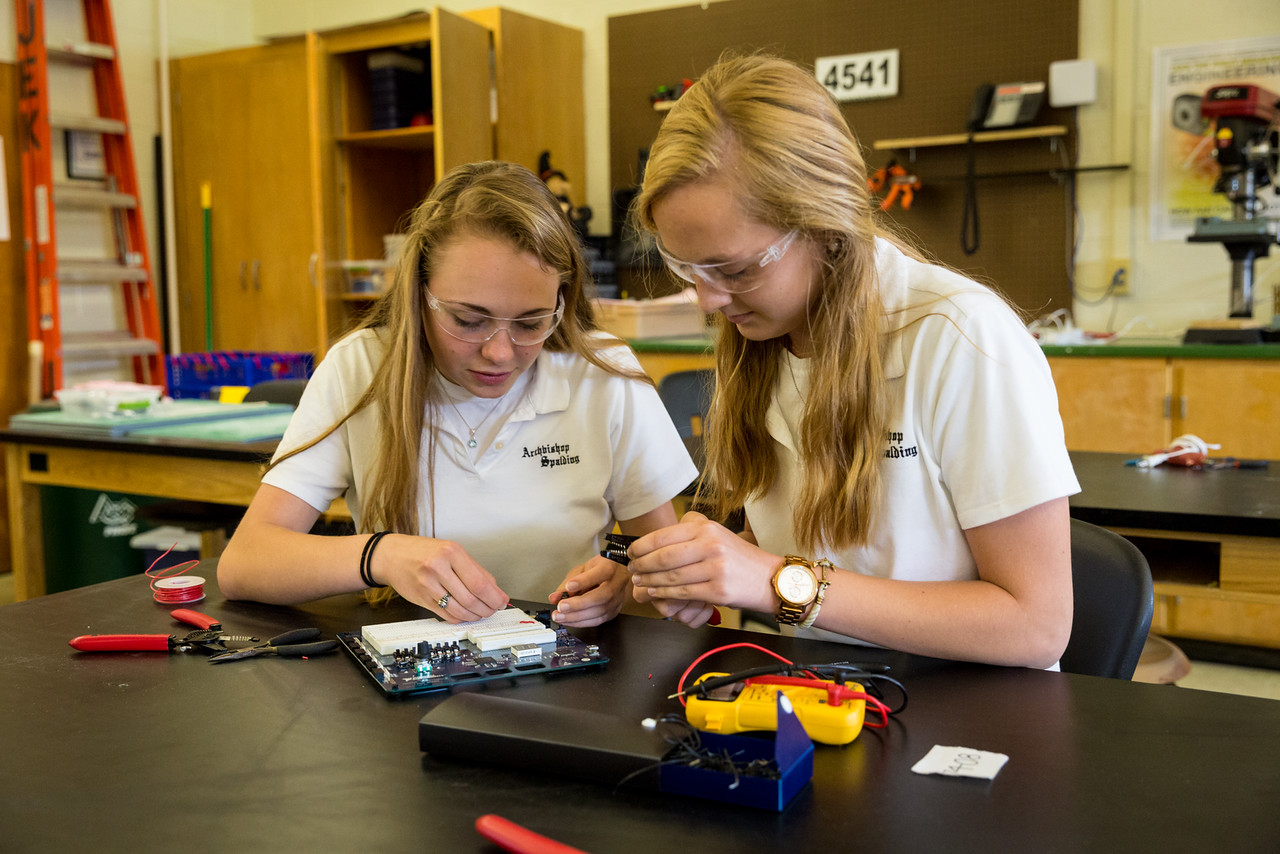 I recently had the opportunity to visit Archbishop Spalding High School in the Archdiocese of Baltimore.  Visiting the Engineering and Robotics lab and talking with students about their work was the highlight of my trip.  The Engineering program was formed in 2009 when Principal Lew Van Wambekeapproached computer science teacher Amy Brunner about starting an engineering program.  Amy was an experienced computer scientist before transitioning into classroom teaching.  Van Wambeke and Brunner collaborated to envision and create the internationally competitive program that exists at the school today.  Van Wambeke believes that partnership and collaboration are vital in developing a successful program. "STREAM, STEAM, STEM … they all rest on a sustainable engineering program.  Finding the right program is important but not nearly as important as finding the right people.  We worked to find teachers who combined critical elements of computer programming, engineering, and faith."
Archbishop Spalding HS uses the "Project Lead the Way: Pathways to Engineering" curriculum which provides professional development and community partnerships to help schools and students develop 21st century thinking and learning skills.  The school works to incorporate engineering design principles across the curriculum, not just in science and math courses.
The Catholic Faith is intertwined with everything we do.  The basis of engineering is helping people solve problems.  That mission of service is fundamental in what we do.  The engineering program uses project based learning where they can take all of their theoretical concepts and put them into practice now, said Amy Brunner, teacher at Archbiship Spalding HS.
The robotics team competes in an international competition regularly.  The structure of the competition requires collaboration and planning with teams from around the world.  Amy, a high school senior, came to Spalding specifically for the engineering program.  Amy shared with me a prayer card that is distributed by her robotics team at competitions.  She said, "Our school motto is 'One in Christ'.  We are a family.  In Catholic school, we are taught how to work together and respect each other within the team and in the world."  Amy has held many positions on the robotics team over the years and plans to attend the Florida Institute of Technology to major in bioengineering with a focus on nanotechnology.
Ryland, an 11th grade student spoke about the value of mentors to the engineering community.  "People from the fields of science, business and communication all give their time to help us develop skills, and gain funding and experience.  I currently mentor 3 First Lego League teams, some in underprivileged schools.  It provides those students a new perspective they didn't have before.  Through serving others, I feel like I help them aspire to do great things they didn't think they could do before."  Ryland hopes to attend MIT to major in aeronautical engineering and someday work for NASA.
If you are interested in starting or expanding a robotics program in your school, you can learn more from Principal Lew Van Wambeke who will be presenting "The Right Stuff: Building a STREAM Program" at the 2016 STREAM 2.0 Symposium June 27-29th at Neumann University in Ashton, PA.  Registration information can be found at https://www.ncea.org/events/stream-20-symposium.  The session will provide lessons learned while implementing the "Project Lead the Way Pathways to Engineering" program as well as reflections on things they would have done differently.