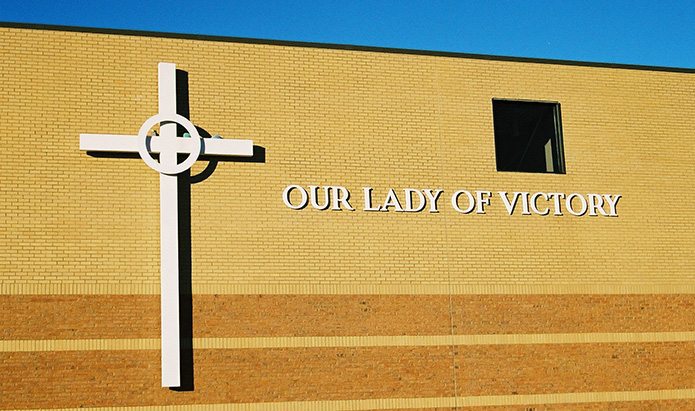 Our Lady of Victory School in Tyrone, GA is one of the four schools where the Welcome Grants can be used.
On May 12, 40 Welcome Grants were introduced to four Catholic Schools in the Archdiocese of Atlanta by the Office of Catholic Schools. The grants will provide reduced tuition for two years to help Catholic families test out a Catholic school for their children. Schools eligible for the Welcome Grants – ten grants to each school – include three elementary schools; Our Lady of Victory School in Tyone, St. John Neumann in Lilburn and St. Peter Claver in Decatur and one high school, Our Lady of Mercy High School in Fayetteville.
"The archdiocesan grant program is modeled after like programs in the Diocese of Allentown, Pennsylvania, and the Archdiocese of Omaha, Nebraska… The Welcome Grant program is for Catholic students not currently enrolled in a Catholic school. Students should be entering pre-kindergarten through seventh grade or ninth through 11th grades. New students attending an elementary school will be granted $2,500 toward tuition for year one and $1,500 in year two. New high school students will be granted $4,000 in year one and $2,500 the second school year."
One of the big concerns in the country is to make Catholic schools accessible and affordable, particularly to those families desiring a Catholic education for their child. In light of that a couple of dioceses in the country have implemented strategies, said Rebecca Hammel, associate superintendent of schools in Atlanta.
In Allentown, the welcome grants are offered to new students for one school year, and in Omaha, for two years.
We are following suit with Omaha in offering a two-year program, and so the goal is to incentivize families who have felt Catholic education is out of reach for them, said Hammel.
"The application window for Welcome Grants is June 1 through Aug. 1 and interested families should visit www.welcomegrantsatl.com to apply. Applications are time-stamped and grants will be made available on a first-come, first-served basis."
For the full article, please read here.