This post was contributed by Annette Jones, NCEA Assistant Director of Leadership Development.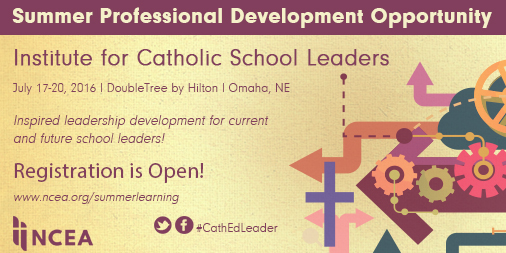 Principals, Pastors, Presidents, and Board Chairs are invited to…. The Institute for Catholic School Leaders in Omaha, Nebraska from July 17-20, 2016!
It's hard to believe yet another school year is about to come to an end and summer is just around the corner.  We hope the 2015-2016 school year has been a prosperous and successful one for your Catholic schools.
Here at NCEA, summer means professional development and learning opportunities for our members.  We are less than three months away from the most significant professional development opportunity for Catholic school leaders this year!  As you know, the Institute for Catholic School Leaders (ICSL) for principals, presidents, pastors, and board chairs is being held July 17-20, 2016.
In addition to an outstanding keynote address by Dale Hoyt, Ed.D., Superintendent of the Archdiocese of Hartford, CT, we are offering four leadership tracks at this summer institute.  The four tracks and topics within the tracks are as follows:
Spiritual Leadership
Developing Catholic Identity
Making Catholic Schools more Spiritual
Making Church more Inclusive
Servant Leadership Retreat Planning
Leadership Relationships
Pastor with Principal
Principal with President
School Board with Catholic School Leadership
Operational Vitality
Enrollment Management
Marketing and Branding
Financing the Mission
Leadership Succession/Emerging Leaders
Law and Policies with 21st Century Technology
Professionalism (Dress Code/Social Media/Communication)
Staff/Performance Evaluation
Year-long Planning
Staff Management
To further whet your appetite, a few notable and engaging presenters are:
Ron Nuzzi, ACE Senior Director, University of Notre Dame
William Dygert, C.S.C., Superintendent Archdiocese of Portland Oregon
Pat McCormack, IHM, Ed.D., Formation-Education Consultant
Steve Virgadamo, Associate Superintendent Archdiocese of New York
Dale McDonald, PBVM, Ph.D., NCEA Director of Public Policy
Registration and additional information can be found at Institute for Catholic School Leaders.  Please join us at the Institute for Catholic School Leaders this summer!