This article was contributed by Barb Gilman, teacher at St. Margaret Mary School in Omaha, NE.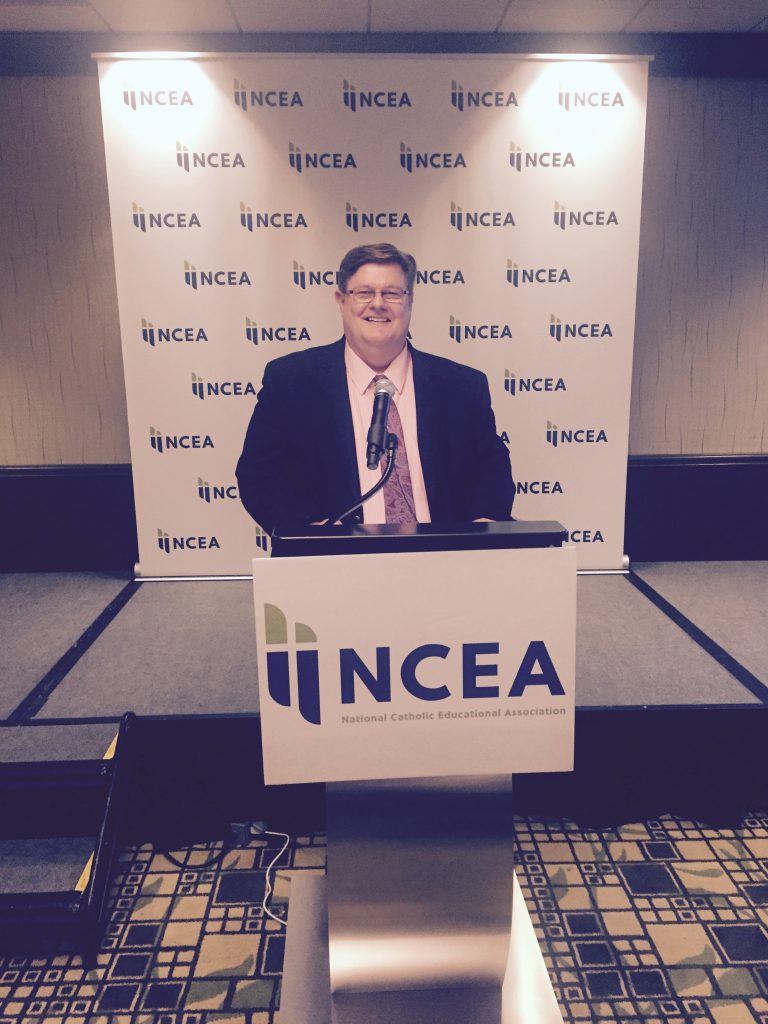 If gathering a large group of Catholic leaders in Omaha for a conference is not fantastic in itself, having Dr. Dale Hoyt give the Keynote speech was the piece that elevated the conference. Dr. Hoyt's Keynote inspired, made us laugh and brought many of us to tears. This is a hallmark of a winning Keynote.
Dr. Hoyt set the stage for his keynote by displaying and asking us a question. "What is the essential question you need to answer in our role to lead as Jesus led?"  He laid out 8 qualities in our mission as a Catholic school leader that he shared from Jesus' life that we can emulate.  In our desire to lead as Jesus led he used 8 stories and leaders that he has worked with in his 26 year career as examples. But before he charged into his examples, he had us turn and participate in a 'pair/share' to ask our neighbor what characteristics we feel we need to have as a leader looking to Jesus as our example.
The first trait that Dr. Hoyt shared was Self Awareness. Jesus as a 12 year old preaching in the Temple knew why he was here. Jesus at the wedding at Cana drew himself into the community, as he knew why he was here. Jesus, being baptized by John sealed the deal of his self awareness. We as a Catholic school leader have this mission and call to holiness. We all have our Baptismal certificate. Why not hang that on our office wall? This certificate, right next to our college diplomas, show that we are disciples on our missionary path.
Dr. Hoyt then shared the story of Helen Casey. Helen's lived a life with a personal mission of her desire to show the love of Jesus to all of her students. First as a Campus Minister and then as a principal. In her school she brought her teachers, students and parents together with prayer. She was asked to step into the leadership role as a principal as the community called her into this role. She answered the call that she did not seek out, but felt it was part of her mission.
The 2nd trait outlined by Dr. Hoyt was Professional Development. Jesus employed Professional Development with his own studies of the Word in a careful and reflective manner.
Sr. Martha Rolley shows this trait of always learning with professional development. She was at one time, the Vice President of the educational division of Apple computer. She developed the program known as Apple Core Training and brought this program to Dr. Hoyt's fellow principals. These principals were the first to train and learn technology and use email. These early adopters learned how to use these tools and shared them with their school community.
The 3rd trait of Jesus was his framework for leading. Jesus wanted to show us the love of God. He knew the people he was reaching. He knew the organizational and personal realities of his followers and knew the social climate and the diversity of his followers.
Daniel Horn lives his personal and professional values as one in the same. His framework for leading is deeply rooted in Social Justice. He is the principal of St. Genevieve High School  in the heart of Los Angeles. Daniel looks for anointed moments. Moments in which he finds God. He encourages his faculty and students to look for these moments. Sometimes they are found in the simplest things. As part of his school, he has added the Character Education series. This series connects his students to what is happening in society and teach them to respect the dignity of humankind. This series thinks outside of the box as it is a family event. His students attend school beginning at 2 pm on the day of a speaker. They then have a family pot-luck and then the speaker addresses the faculty, students and parents.
The 4th point shared we find that Jesus issues us an invitation to leadership. Jesus calls us to look for the best is everybody. He reminds us that everyone has a valid and good contribution to make in our world. Pope Francis also invites us to walk together, "we are part of the one flock of Christ, walking together…we do not walk alone," Pope Francis October 3, 2013.
For this point, Dr. Hoyt played the video made by Matt Harding entitled, Where the Hell is Matt? Dr. Hoyt asks us to notice how Matt knows how to draw a community together. He pointed out, that as the video began, Matt was alone, and as people joined him, you didn't notice Matt in the crowd. Jesus gave us this example too. Jesus started alone on his mission, he asked us to follow him and he passed on his mission to us, his disciples. Dr. Hoyt asked us, 'what will be your dance this Fall?'
Part 2 is now available here.
You can find Barb, who is active on Social Media, as @barbinnebraska on Twitter. Barb is one of the co-founders of #CatholicEdChat