This press release was contributed by Margaret Kaplow, NCEA Public Relations Manager.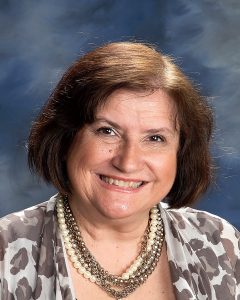 Arlington, VA- The National Catholic Educational Association (NCEA) congratulates winning principal, Kathleen House from Christ the King Catholic School in the Diocese of Little Rock, as one of three Catholic elementary school principals named as winners of the 2016 National Distinguished Principals Award presented by the National Association of Elementary School Principals (NAESP).  Mrs. House will be presented her award in Washington, D.C., at a two-day celebration October 6 – 7.
"To have our principals honored on a national level is exciting," said NCEA's Leadership Development Assistant Director Annette Jones. "Their devotion to providing faith-based education and excellent academics not only enriches their teachers and students with a clear philosophy of Catholic education, but also serves to inspire their surrounding communities."
Mrs. House has been the principal at Christ the King since 1994.  Christ the King had no computers when she first became principal, but today there is a computer lab, wifi, interactive white boards, surround sound in every classroom and an initiative to have Chromebooks for every student is in the works.  In 2007, Mrs. House added PreK – 4 classes and in 2013 she began a special education program to help struggling students. Each classroom has a plaque over the door that reads, "Be it known to all who enter here that Christ is the reason for this school…"  Christ the King's pastor, Rev. Msgr. Francis Malone, J.C.L., P.A., says the school community is "blessed to Mrs. House as principal."  He describes her as a woman of faith and an exemplary Catholic educator who is committed to the sustainability of the school and fostering an excellent educational environment.
Wearing many hats, as principals do, Mrs. House works hard to make sure her teachers, students and parents have easy access to her.  She opens car doors for the Kindergarteners every morning to greet the students and parents.  Her classroom visits help teachers develop new programs and she shifted teacher schedules to ensure three teachers of each grade level have common planning periods.  Mrs. House was awarded the 2015 NCEA Lead. Learn. Proclaim. Principal  Award at the 2016 NCEA Conference and Expo in San Diego.
NAESP recognizes elementary and middle-level administrators for setting high standards for instruction, student achievement, character and climate for the students, families and staff in their learning communities.  For more information, visit www.naesp.org.
NCEA also recognizes the other winning Catholic school principals of the 2016 NAESP National Distinguished Principals Award:
Jane A. Bona, Immaculate Conception School, Columbia Heights, Minnesota, Archdiocese of St. Paul-Minneapolis
Lynne Scheffler, St. Joseph Catholic School, Lockport, Illinois, Diocese of Joliet
###
Rooted in the Gospel of Jesus Christ, the National Catholic Educational Association (NCEA) is a professional membership organization that assists its members to fulfill their teaching mission of the Church and to lead, learn and proclaim the good news of Catholic school education. For more information, visit www.NCEA.org.