This article is a re-posting of Schools Launch Marketing Campaign by The Catholic Globe.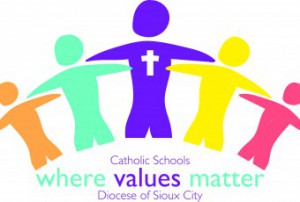 The Diocese of Sioux City's office of education has launched a new marketing awareness campaign which will highlight diocesan schools, academic excellence, values-based teaching and learning, and affordability.
The campaign, "Where Values Matter," was created by eight Briar Cliff University digital media students as part of their senior research course.
During the spring semester, the students worked closely with the diocesan officials to formulate the campaign, aimed at increasing awareness of the diocese's Catholic education options for families.
We were trying to replicate a real-world situation for the students, said Kristen Perez, assistant professor and chair of BCU's department of digital media. We wanted them to realize this is a client and what you produce, they will be using and it has to be good.
The students created the acronym representing F.A.I.T.H – Family, Academics, Inspiration, Teaching and Honesty – to illustrate the schools' mission-based approach to ensure each student is fully-prepared for a life of faith, service and integrity.
The marketing effort came on the heels of long-range planning, anchored in raising awareness of the alternative a Catholic education offers, and the more than $18 million in tuition assistance available to families, explained Dan Ryan, Ed.D., superintendent of schools.
Our students receive a well-rounded education not found in public schools, he said. We do everything we can to help parents save money by making their child's education affordable.
According to Stacia Thompson, director of enrollment, the campaign will have three promotional periods.
"The first will be a back-to-school message with 'still time to enroll' that will run in August," she said. "The second will focus on open houses/shadowing/visiting your local school and will run right after the election in November through Thanksgiving. Catholic Schools Week and registration will be our third time-frame at the end of January and into February."
A new website – valuesmatteriowa.com – press releases, social media, radio in both English and Spanish and some
Each item in the campaign can be personalized to the needs of the 16 school systems in the diocese which educate more than 6,000 students.
Diocesan schools will disseminate this information to families between now and Aug. 31, via newsletters, website news, email, or social media.