This article was contributed by Pam Bernards, Ed.D., NCEA Director of Professional Development.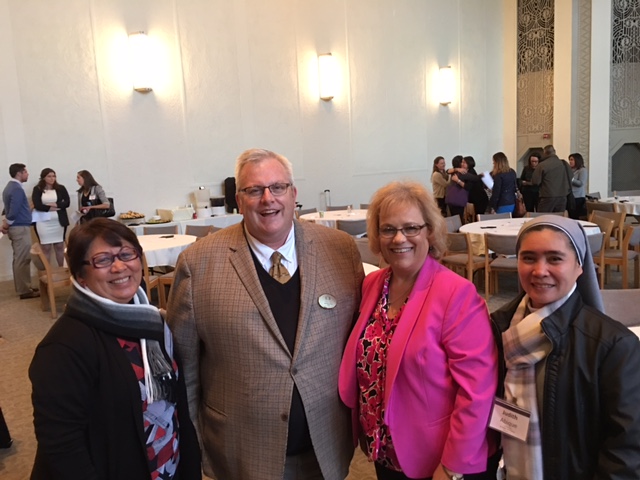 I had the privilege of attending the Mustard Seed Project conference at Loyola University Chicago on Monday, October 10, 2016 with 200 fellow Catholic school educators who share an interest in exploring the topic of serving students with disabilities in the Catholic school setting. The event, sponsored by the Andrew M. Greeley Center for Catholic Education, Aspire, and the Big Shoulder Fund, began three years ago as a regional conference drawing primarily from the Archdiocese of Chicago and surrounding areas. This year over 13 states were represented, including participants from as far away as Hawaii. I was excited to learn that this conference has grown from approximately 60 to nearly 200 attendees in three short years, affirming for me the growing interest in this very important topic among Catholic school educators!
Immediately apparent was the passion of not only the attendees, but of the Catholic school professionals and clinicians who presented. Thirty conference sessions supporting the conference theme, "Ensuring a Place at the Table," were organized within three professional development strands: Promising Practices, Practitioner Showcase and Parent Networking. Topics ranged from Implementing Positive Behavior Supports in Catholic Schools to Evidence-based Interventions to Taking your RtI/MTSS to the Next Level.
The opening keynote was offered by Michael J. Boyle, PhD, Director of the Andrew M. Greeley Center for Catholic Education. He encouraged and challenged attendees to inspire and innovate so that models of inclusiveness and systems of support evolve despite limited resources. He said of the event, "An event like this lets Catholic schools know that supporting students with disabilities can be a reality."
The group was captivated by keynote speaker Bridget Brown, accompanied by her mother Nancy. Conference attendees were inspired by this young woman with Down Syndrome as she shared her story of inclusion and exemplified the "possibilities" for those with disabilities, when given the opportunity.
In the coming months, the National Catholic Educational Association (NCEA) and the Andrew M. Greeley Center for Catholic Education (GCCE) will collaborate on a research study to assess the current status of Exceptional Learner program implementation in Catholic schools who are members of NCEA. Catholic school superintendents, principals, and teachers will be asked to share current practice on themes that will include but not be limited to use of Response to Intervention, Multi-Tiered Systems of Support, and Progress Monitoring; enrollment of students with Autism/Asperger Syndrome, Downs Syndrome, Dyslexia, and developmental delays; and the use of research based Instructional Strategies, Social Emotional Development strategies, and Therapeutic Services (physical therapy, occupational therapy, speech language, etc.).
The NCEA and GCCE will also co-host the NCEA 2017 New Directions Exceptional Learner Conference on June 19-21, 2017 at the Hilton Orrington/Evanston in Evanston, IL (Chicago area). The Most Reverend Joseph E. Kurtz, D.D., Archbishop of Louisville, KY and President of the USCCB will be the keynote speaker. Those wishing to be considered as a presenter for this conference should watch the NCEA website for information on the Call for Proposals.
Be sure to share "good news" stories from your diocese or school through Twitter by using the NCEA Exceptional Learner hash tag #CathEdExL and the NCEA Twitter handle @NCEATalk. Be sure to connect with the Professional Development Team by including our Twitter handles @pam_bernards and @adkopp76. I am constantly amazed and energized by all the great things being done in the area of Exceptional Learners by dedicated Catholic school educators from across the country! Keep up the great work!