This article was contributed by Cari White, Campus Minister at St. Edward High School in Lakewood, OH.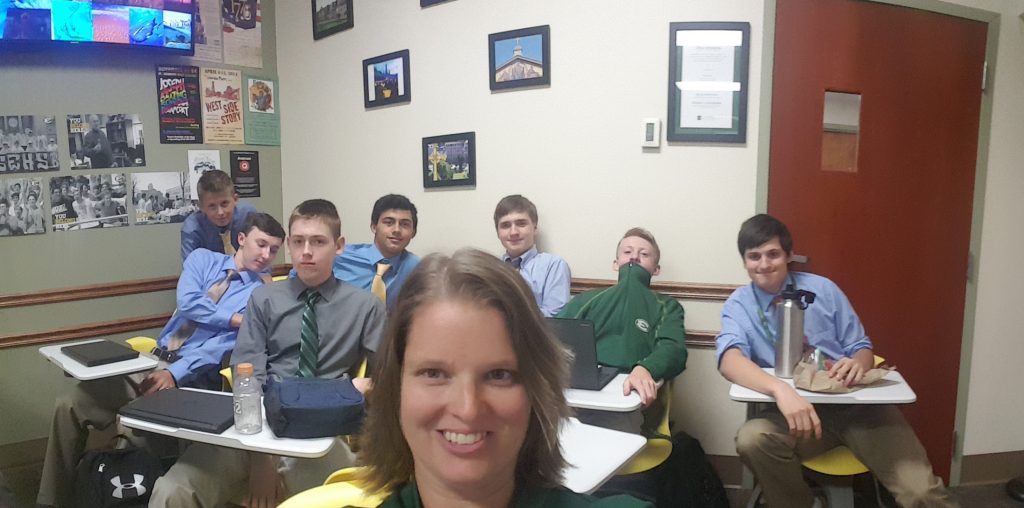 Catholic Schools Week provides an important opportunity to take time and proclaim to the world the incredible gifts and opportunities that are found in Catholic schools.  As a Campus Minister in an all-male high school, I take Catholic Schools Week as an opportunity to reflect on the important ways our school helps students to grow and learn, and how we help our students understand and recognize the wonderful and unique opportunities a Catholic education gives them.
It is my responsibility to make sure our Catholic identity  remains in the center of what we do.  From the statue of Mary and Joseph in the main entrance to the student who leads morning pray at the start of each day, everything is centered around our Catholic identity. While we celebrate mass together as a community once a month, there is no better time then Catholic Schools Week, giving us an opportunity to further talk about the different opportunities we have for prayer and the sacraments.
At St. Edward, an all-male 9-12 High School founded by the Brothers in Holy Cross, we take great care to heed the mantra, "the mind will not be educated at the expense of the heart," a quote from the Congregations' founder, Blessed Basil Moreau.  This is especially important for me, as I work hard to plant the seeds of faith in our students.  Lately, I've also tried to go a step further and train our students to be seed planters themselves.  I have a dedicated group of junior and senior students who serve as student ministers, responsible for planning different activities around advent and lent, lead prayer, serve as Extraordinary Ministers of Holy Communion, lead retreats for the underclassmen and serve as role models for the school.  Over the years, students themselves have helped grow this program, to include a peer ministry program where students can reach out to talk to specially trained ministers, but also to lead and write prayers and prayer services on their own.  Only in Catholic schools is this faith development and attention to the whole person – mind and heart- possible.
Just last week I was especially proud of a few of my Student Ministers who took it upon themselves to write, set-up and lead a prayer service for a fallen police officer who none of the students knew, but was an alum of our school.  The student lead insisted on working on it himself, as he knew I had a lot of projects going on (I was getting ready to lead a brand-new retreat for juniors the next day) and knew it would help if he took over.  He wasn't fazed when the media showed up (and even streamed the entire service online).  He took what he had learned and used that to bring hope and comfort to our community in a time of great need.  This is just one simple example of the many ways we try to educate the minds and hearts of our students – to see the face of Christ.
As part of Catholic Schools week, we are launching a new ministry called Labre, where a team of students and adults take food, blankets and supplies to the homeless camps in Cleveland.  As St. Theresa of Calcutta said "if you judge someone, you have no time to love them."  Labre gives us an opportunity to take our students past a place of judgement and into a place where they can love and help them. I don't think there is a more noble and important cause then to help the world's future leaders and citizens to see another person instead of making judgments about that person.  It is an honor and blessing to be a part of that every week.
Catholic schools offer one the opportunity to grow not only in faith, but in service, education and in communion with others.  I can't think of a greater opportunity or responsibility as we serve the young Church.