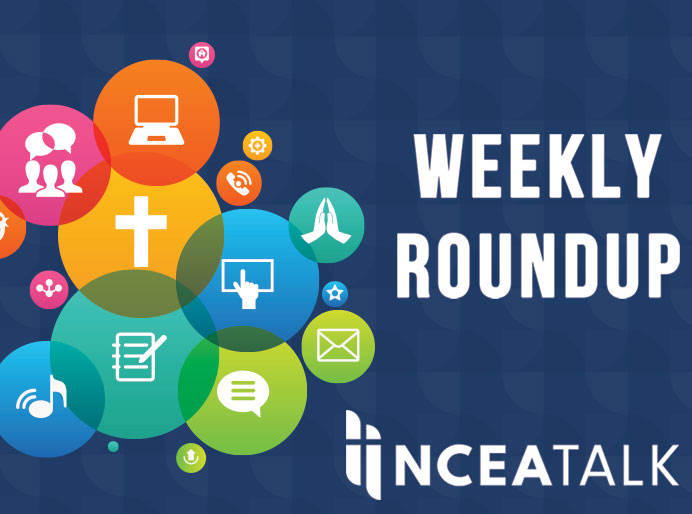 Didn't have the chance to check in with NCEA Talk each day? We've got you covered. Each Friday NCEA Talk will post a roundup of Catholic education news and resources from the week.
Celebrating Families: NCEA Parent News
Catholic Schools Week Teacher Spotlight: Maureen Callaghan
Celebrating Faculty, Staff and Volunteers
Bearing Witness: A Teacher's Reflection
Catholic Schools Week: Celebrating the Nation
ESSA Overview: Getting the Most Out of the Every Student Succeeds Act
NCEA Announces Inaugural Youth Virtues, Valor and Vision Awards
NCEA Monthly Feature School: St. Paul School in Westerville, Ohio
Syracuse Diocese Catholic Schools to Kick Off Catholic Schools Week with Day of Service
National Catholic Schools Week: Day of Service
Catholic Schools in an Increasingly Hispanic Church
National Catholic Schools Week: January 29 – February 4, 2017
---
Catholic School Educators: Call to Discipleship
NCEA is pleased to share its new weekly reflection series "Catholic School Educators: Call to Discipleship" for the new liturgical year. This series shares reflections for educators contributed by Justin McClain, teacher at Bishop McNamara High School and author of Called to Teach: Daily Inspiration for Catholic Educators. The weekly reflections are a regular feature in our Friday Weekly Round Up blog posts on www.nceatalk.org – check back each Friday for a new weekly reflection.
Fifth Sunday in Ordinary Time – February 5, 2017
Gospel Reading: Matthew 5:13-16
"Just so, your light must shine before others, that they may see your good deeds and glorify your heavenly Father."
Within your school community, you are more than likely now well into the third academic quarter, which experienced teachers commonly recognize as the proverbial "desert" of the school year (not to be confused with the "dessert" of the school year – teachers and students alike agree that that is the summer). Throughout the third quarter, make an extra effort to invigorate your students and keep them enthused, inspired, and hopeful. Rest assured that they will appreciate, sooner than later, your efforts that will serve as a shining light to keep them focused on what will matter far beyond this or any third quarter: the kingdom of God!
How will you strive to help your students spiritually thrive throughout the third academic quarter?