The following article is a re-print of the FEMA (federal Emergency Management Agency) email.
Preventing Arson at Houses of Worship
May 9th, 2017 at 2:00 p.m. EDT
Each year for Arson Awareness Week, the U.S. Fire Administration (USFA) gathers and shares information to raise awareness of arson or youth fire-setting and provide individuals with strategies to combat these problems in their community. Arson Awareness Week will be from May 7-13 this year and USFA is providing shareable content about how to help community leaders increase awareness about how to prevent arson at houses of worship.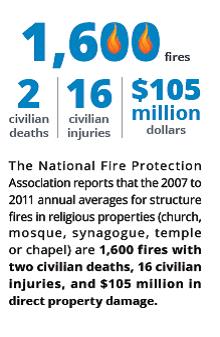 FEMA, the DHS Center for Faith-based & Neighborhood Partnership, Department of Justice and Department of Homeland Security are hosting a webinar on Tuesday, May 9th at 2 p.m. EDT. Participants can register for the webinar online. (Source for picture on the above: United States Fire Administration)
DHS Center for Faith-Based & Neighborhood Partnerships

The graphic above describes six arson prevention tips for houses of worship. You can illuminate the exterior and entrances of your house of worship. Clear obstructions like shrubbery that blocks the view of the building. Install smoke alarms and a fire sprinkler system. Keep doors and windows locked when not in use. Remove anything that can fuel a fire for an arsonist. Establish an arson watch program. You can learn more at www.usfa.gov.
Click here for more arson prevention tips and resources for houses of worship.
---
DHS Center for Faith-Based & Neighborhood Partnerships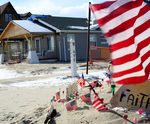 The DHS Center for Faith-Based and Neighborhood Partnerships was created in 2006 by an executive order to help emergency managers effectively engage with faith and community-based groups. The DHS Center carries out the policies and program priorities of the White House Office of Faith-Based & Neighborhood Partnerships, the Department of Homeland Security (DHS), and the Federal Emergency Management Agency (FEMA).
Have a comment, question or looking for information? E-mail us at Partnerships@fema.dhs.gov