The following article is a re-print contributed by John Worden and Christina Muraczewski, teachers at St. Mary's Academy in Inglewood, California.
The St. Mary's Academy robotics team, SMArtBots (Team #3759), competed in the US FIRST regional championship in Ventura, California on March 16 through March 18, 2017. This was the seventh regional competition the team has entered since its founding in in November, 2010. SMA fielded one of two all-female teams in the competition. Usually we are the only all-girl team.
Ms. Hernandez is a Red Tie alumna who was a member of the charter SMArtBots team in 2011 and has returned as a mentor. She is currently studying mechanical engineering engineering at Cal State Los Angeles. Mr. Ioki was present at the meeting which brought US FIRST to the attention of SMA and has mentored the team since its inception. At that meeting, Mr. Condrat accepted the challenge to lead the team in what is arguably the 'big leagues' of high school robotics competition. The team fielded its first robot at the Los Angeles Regional competition four months later.
Forty-two teams entered the regional competition held at Ventura College. Seventy-seven qualifying matches were held on Friday and Saturday morning. Each match involves two 'alliances', each composed of three teams. Team assignments change for each match so that every team both competes against and cooperates with every other team. At the conclusion of qualification round the eight teams with the best scores form new alliances by choosing from the other teams. SMArtBots had the fifth highest score at the end of qualifications. These 24 teams form eight alliances that compete in the elimination round.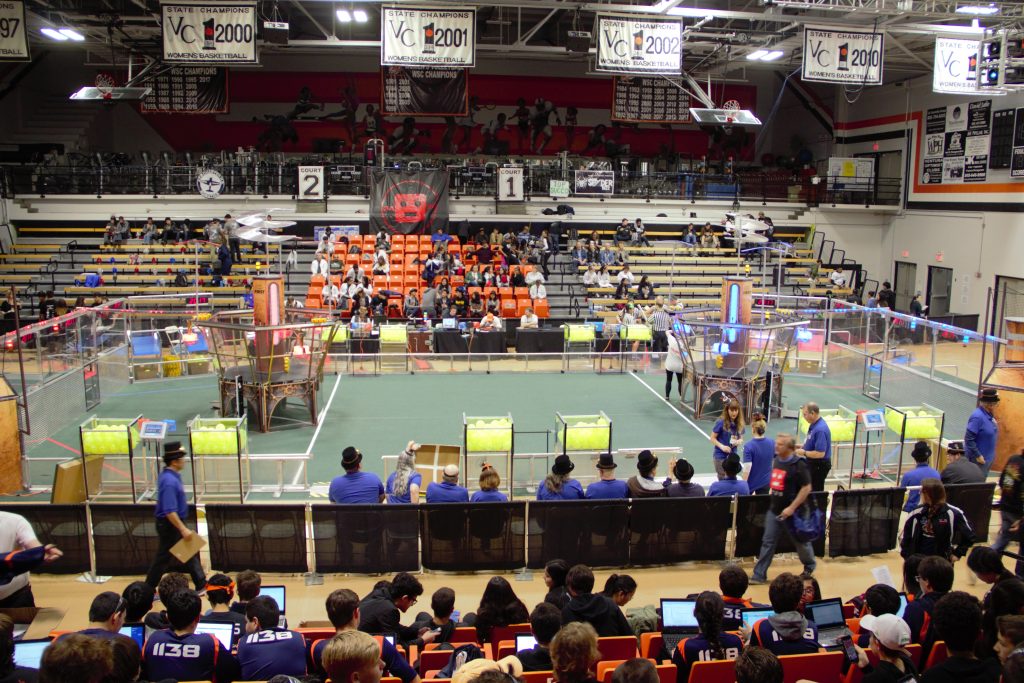 This year's robot is the lightest and most reliable robot ever created by the SMArtBots team.   The robot is required to retrieve and deliver objects to a team member in the field and then climb a rope to trip a light. The SMArtBots team achieved its best-ever performance this year, completing the qualification round by winning nine of twelve matches. The team survived the quarter-final round only to be eliminated in the semi-finals. This was the first year any SMArtBots team made it to the play offs.
To view the entire article, please click here.