The following article was contributed by Pam Bernards, Ed.D., Director of Professional Development at NCEA.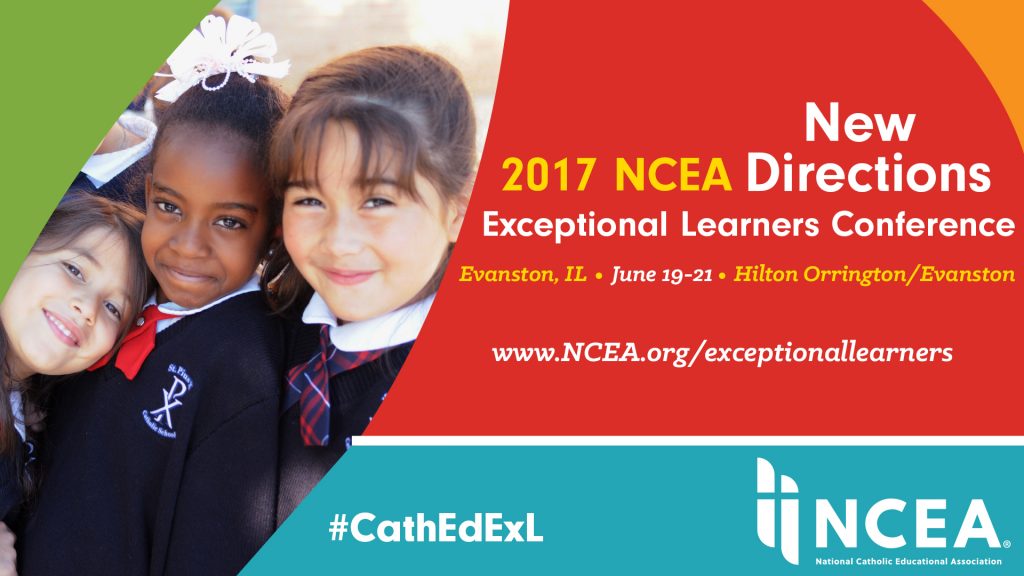 I am very excited about the upcoming 2017 NCEA New Directions Exceptional Learners Conference in Evanston, IL June 19-21, 2017.  We have a great line-up of presenters! Please meet one of them, Raul Escarpio, whose presentation is entitled: Understanding and Managing the Anxiety of Students with Special Needs.
If recent experiences at the NCEA 2017 Convention & Expo in the way of standing room only for many of the 14 Exceptional Learner sessions is any indication; interest in inclusive education is at an all-time high in Catholic schools across the nation. Additionally, there was record breaking attendance at the second annual Inclusion Summit sponsored by The National Board on Full Inclusion, FIRE Foundation from the Diocese of Kansas City/St. Joseph. Missouri, One Classroom from the Archdiocese of St. Louis, Missouri, and the Catholic Coalition for Special Education (CCSE) in the Archdiocese of Washington, DC and the Archdiocese of Baltimore are
NCEA's recently released Infographic, Called to Inclusion  and white paper, One Spirit, One Body: An Agenda for Serving Students with Disabilities in Catholic Schools have been well received by the NCEA membership. If you have not yet had a chance to review these documents, be sure to take a few minutes and follow the links provided.
You have already met one of the presenters. We are blessed to have The Most Reverend Joseph E. Kurtz, Archbishops of Louisville, as the keynote presenter as well as featured superintendents Jim Rigg, Ph.D. and Vincent de Paul Schmidt, Ed.D.  The sessions are geared for diocesan and school leaders, instructional leaders and teachers. Sessions fit into three categories which comprise many student services programs: students with disabilities, gifted and talented students and English Language Learners. Specifically the topics include:
RtI/MTSS/Progress Monitoring
Instructional Practices
Positive Behavior Intervention and Supports
Social Emotional Strategies
Working with ESSA and LEA's
Universal Design for Learning
Please be sure to check out the preliminary program for a complete session listing and join conversations on Twitter at #CathEdExL. Do not hesitate to contact me at pbernards@ncea.org with any questions. I look forward to seeing you in Chicago!