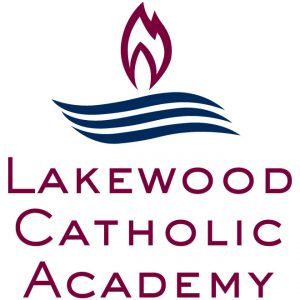 The U.S. Department of Education announced today that Lakewood Catholic Academy in Lakewood, Ohio is among the 2017 U.S. Department of Education Green Ribbon Schools award honorees.
LCA was nominated by the Ohio Department of Education and was the ONLY school in the state of Ohio to be recognized this year!
Brian Sinchak, President of Lakewood Catholic Academy, stated, Lakewood Catholic Academy is proud to receive this national recognition, but more importantly, we are proud of our students and educators who are passionate about caring for God's creation in thoughtful and innovative ways.
Saintly stewards of the environment serve a Great Lake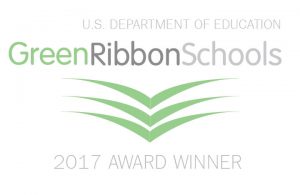 Lakewood Catholic Academy (LCA) was founded in 2005, and serves students in preschool through eighth grade. The school is a member of the Cleveland Catholic Diocese, and located on nine acres of Lake Erie shoreline property, allowing students and teachers to take full advantage of the ecosystem of the Great Lake. It also neighbors Lakewood Park, a 31-acre park in the city. The park features a walking trail used by the physical education students and by the fifth grade students during their water walk, an environmental advocacy and fundraising project.
The school replaced an old boiler with two energy efficient boilers, and all of the fluorescent light fixtures in the school with LED fixtures, many of which are motion-sensored. LCA renovated three restrooms over the past five years, installing low- flow filters.
Working with Lakewood Refuse and Recycle inspired students to begin a recycling program at LCA, and the school was the first in the city to participate in the curbside recycling program. The recycling program has grown over the years, and the students are committed to reducing waste whenever possible, including hosting waste-free lunch days in the dining hall. Overall, the Saintly Stewards have reduced garbage schoolwide by 20 percent.
A partnership with Drink Local/Drink Tap teaches the students the importance of clean drinking water, which inspired them to host a fundraising walk to raise money for wells in Uganda, as well as participate in local initiatives that promote the use of tap water over bottled water. The school used a grant from the Ohio Department of Education and the Ohio Facilities Construction Commission for the sampling, testing, and replacement of drinking fountains, water coolers, and plumbing fixtures that may have elevated levels of lead.
Through many partnerships, the school is reducing its carbon footprint while educating students on how to be environmental stewards. Its partnership with the Cleveland Metroparks allows students to learn more about Monarch butterfly migration, Monarch waystations, and native plants that are butterfly food sources. The school was chosen by the Cleveland Metroparks as the recipient of an educational grant to build a Monarch waystation on the northern edge of the property.
The school contracts with Lago Dining Services to provide a fresh salad bar and fresh fruit bar every day. LCA no longer fries any food, and all food is freshly made from scratch each day using a majority of organic, non-genetically modified ingredients. Students in kindergarten through fourth grade engage in school- supervised physical education and outdoor time for six and a half hours per week, and students in grades five through eight for three hours per week. Students also use an outdoor classroom and play on the school's 43 different sports teams.
Fifth and sixth graders use the adjacent park to conduct soil temperature tests. Many LCA teachers also take advantage of the newly completed Solstice Steps. These steps face the lake, and were designed around the summer solstice. In technology class, students participate in a unit where they learn skills needed to complete a long-term project to create environmentally friendly businesses. The students research various eco-friendly corporations and then use the information to create their own businesses. In seventh grade science class, students study global water systems, researching the effect of plastic pollution and its relationship to surface currents. They then use their data and information to create a newsletter to get the word out and to explain how plastic waste has accumulated to form the Great Pacific Garbage Patch, a giant landfill in the central North Pacific. Fourth grade students use STEM knowledge and problem-solving skills to learn about solar energy and create and race solar-powered cars.
Brenna Warrell, Dean of Academics, commented, This award represents many years of hard work and dedication on the part of our faculty, students, and LCA community. Everyone at LCA takes pride in being a Saintly Steward.
Lakewood Catholic Academy Environmental Leadership Team includes:
Leah Nagy, Fourth Grade Teacher
Brenna Warrell, Dean of Academics
Ed Kroeger, Director of Facilities
Ken Rogozinski, Chairman of the Facilities Committee of the Board of Directors