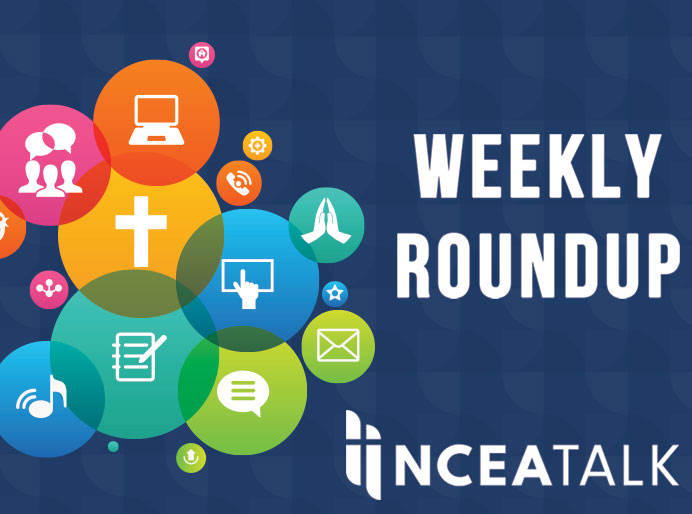 Didn't have the chance to check in with NCEA Talk each day? We've got you covered. Each Friday NCEA Talk will post a roundup of Catholic education news and resources from the week.
15th Annual Education Law Symposium: Law in Catholic Education & Ministry
You are invited to attend the Institute for Catholic School Leaders (ICSL)!
Jonathan Doyle: NCEA 2017 Keynote Address
---
Catholic School Educators: Call to Discipleship
NCEA is pleased to share its new weekly reflection series "Catholic School Educators: Call to Discipleship" for the new liturgical year. This series shares reflections for educators contributed by Justin McClain, teacher at Bishop McNamara High School and author of Called to Teach: Daily Inspiration for Catholic Educators. The weekly reflections are a regular feature in our Friday Weekly Round Up blog posts on www.nceatalk.org – check back each Friday for a new weekly reflection.
Fifth Sunday of Easter – May 14, 2017
Gospel Reading: John 14:1-12
"I am the way and the truth and the life. No one comes to the Father except through me. If you know me, then you will also know my Father. From now on you do know him and have seen him."
The way. The truth. The life. What a bold claim, which we are able to reinforce in our Catholic school communities. However, the boldness of Jesus' claim is not injurious or dictatorial; rather, it reflects the centrality of love within the Good News. Does not Jesus call us to love God first and our neighbor by extension (see Matthew 22:36-40)? Leading our students to know the truth of Christ is leading them to know the truth of the profound love that he has for us as he aims to draw us to eternal life with him.
What are some ways in which you have seen Christ in your students?