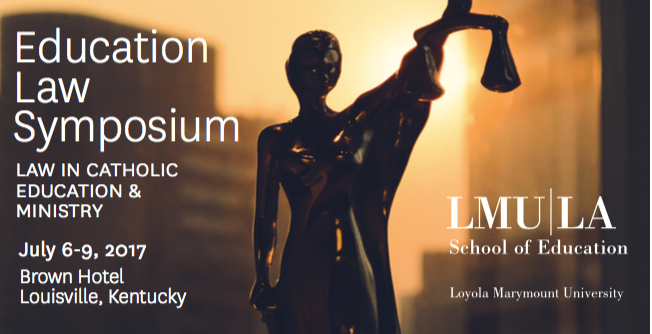 Register today for one of NCEA's most popular annual professional development events, the Education Law Symposium: Law in Catholic Education & Ministry! Celebrating its 15th year, the Law Symposium will take place July 6 – 9, 2017 in Louisville, Kentucky at the historic Brown Hotel. Early bird registration rate of $595 expires June 1!
Co-sponsored with Loyola Marymount University's Center for Catholic Education, this year's program offers dynamic presentations on the law as it applies to Catholic education and ministry. Topics include:
Reflections on Mercy and Law
School Law Update
Social Media
Cyberbullying
Faculty and Student Handbooks
Chief Administrators and Athletics
Title IX: Exemption: Gender Identity/Sexual Orientation Laws
Discipline
Accommodating Students with Differences/Disabilities
Dealing with Difficult Parents
IDEA: Special Ed Law
Law of Love
Medical Issues and Catholic Teaching
Child Custody
Legal Nightmares
Immigration Law
Attendees will hear from experts on a variety of topics, which include social media, cyberbullying, immigration law, accommodating students with disabilities, updates on school law and many more. The symposium's speakers represent an unparalleled group of law experts with a wide variety of industry expertise and knowledge. All sessions will be held in the Brown Hotel — rated as one of the top 50 hotels in the country.
Submit your Law Symposium registration and payment via the online registration form.
Registration Fee is $595 by June 1, $650 after June 1. Groups of 3-4 = 10% discount, Group of 5+ = 20% discount. To qualify, all registrants in the group must register together and must be employed at the same institution and on the same campus.
Don't miss this wonderful opportunity to learn and network!