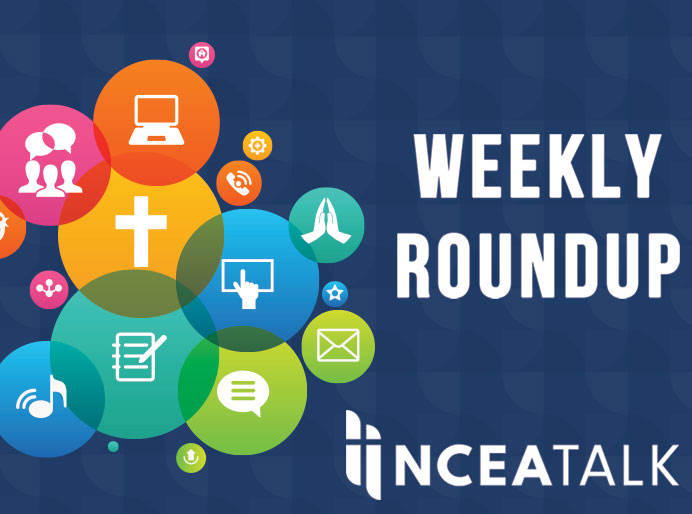 Didn't have the chance to check in with NCEA Talk each day? We've got you covered. Each Friday NCEA Talk will post a roundup of Catholic education news and resources from the week.
Maximizing the E in STEM: Engineering, Engagement, Enthusiasm, Empowerment, and Empathy in Your Classroom
Parents and Teachers Forming Servant Leaders
How Do I Plan and Provide Reading Interventions?
Rhetoric and Reality: Developing a Mind for the Mission
---
Catholic School Educators: Call to Discipleship
NCEA is pleased to share its new weekly reflection series "Catholic School Educators: Call to Discipleship" for the new liturgical year. This series shares reflections for educators contributed by Justin McClain, teacher at Bishop McNamara High School and author of Called to Teach: Daily Inspiration for Catholic Educators. The weekly reflections are a regular feature in our Friday Weekly Round Up blog posts on www.nceatalk.org – check back each Friday for a new weekly reflection.
Solemnity of the Body and Blood of Christ ("Corpus Christi") – June 18, 2017
Gospel Reading: John 6:51-58
"Whoever eats my flesh and drinks my blood has eternal life, and I will raise him on the last day."
The Catholic school teacher is called to embrace a sacramental mentality. The Eucharist, which is the "source and summit of the Christian life" (Catechism of the Catholic Church, 1324), enlivens the Catholic school teacher by focusing our attention on Christ, who gave his life for the opportunity of our salvation. In order to perform effectively as educators in Catholic schools, we must be sure to draw our students to a greater respect and appreciation for the sacraments, with the Eucharist as their capstone.
For this coming school year, how will you invite your students to appreciate the richness of the sacramental life, centered on the Eucharist?