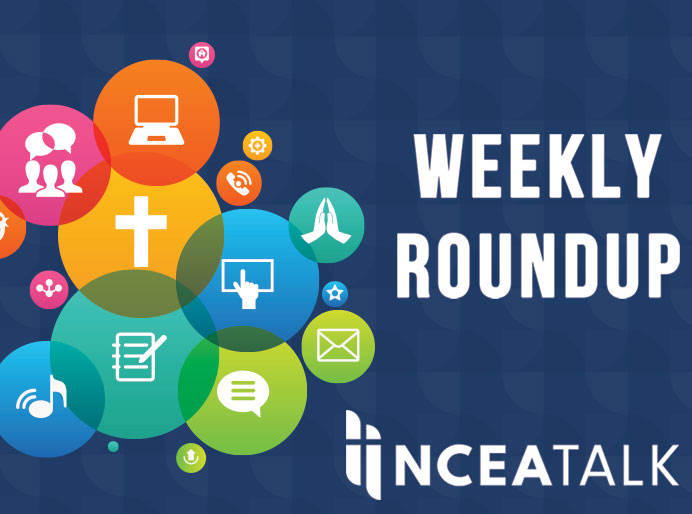 Didn't have the chance to check in with NCEA Talk each day? We've got you covered. Each Friday NCEA Talk will post a roundup of Catholic education news and resources from the week.
Program for Inclusive Education (PIE)
Lakewood Catholic Academy earns International Baccalaureate World School distinction
Scholarships are wish of a lifetime for 100 students
A Case Study for Successful Sustainability in Secondary Catholic Schools
---
Catholic School Educators: Call to Discipleship
NCEA is pleased to share its new weekly reflection series "Catholic School Educators: Call to Discipleship" for the new liturgical year. This series shares reflections for educators contributed by Justin McClain, teacher at Bishop McNamara High School and author of Called to Teach: Daily Inspiration for Catholic Educators. The weekly reflections are a regular feature in our Friday Weekly Round Up blog posts on www.nceatalk.org – check back each Friday for a new weekly reflection.
Solemnity of the Most Holy Trinity – June 11, 2017
Gospel Reading: John 3:16-18
"God so loved the world that he gave his only Son, so that everyone who believes in him might not perish, but might have everlasting life."
John 3:16 is sometimes referred to as "the Gospel in miniature" – it encapsulates, in one sentence, the very purpose of the Incarnation. God came down to us in human form because he wishes for us to participate in eternal life with him. Although it may seem that the academic year is perpetual, it has more than likely either concluded or is about to conclude for you. In order to recharge yourself this summer, reacquaint yourself with the Gospels.
Are you able to set aside a few minutes per day this summer to read through the Gospels? (At two chapters per day, you can read all eighty-nine by late July.)