The following article is a repost of  Scholarships are wish of a lifetime for 100 students by Jeannette Cruz. Photos contributed by Travis Neely. GCU News Bureau
"You better not be lying to me," shrieked Erika Corrales' mom after the Bourgade Catholic High School senior called her to tell her she had received a full-tuition scholarship to Grand Canyon University.
I've worked my butt off to get where I am today, but honestly, I didn't believe that I could ever get something like this," Corrales said. "She is a single mom. She can't afford for me to go to college — we don't even have savings.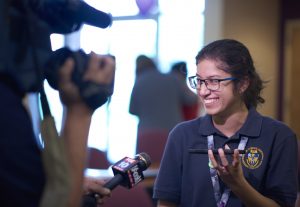 That's why she and her mother were in equal disbelief Monday when they learned that she was one of 100 high school students receiving a full-tuition scholarship to GCU as part of Students Inspiring Students, a collaboration of the University, the GCU Scholarship Foundation, schools and business and philanthropic leaders.
Bourgade senior Vanessa Garcia, who was right there with Corrales celebrating, said after struggling with a delay processing disorder all of her life, the scholarship gave her hope.
"I never thought that I would get here," she said. "I've had a hard time, but my family pushed me and told me I could do it and I did."
The surprise came during "Make A Wish Week" at the school, and Bourgade Principal Kathryn Rother said it couldn't have come at a better time.
Grand Canyon University makes a lot of wishes come true, and so I am very pleased to welcome them to our campus today, she said.
At its core, the scholarship program is about students helping students and the impact it can have at inner-city schools in Arizona. The 100 students all received academic assistance while in high school at GCU's Learning Lounge, a free after-school tutoring program designed to improve the skills and confidence of both under-performing students and those taking advanced-level classes. To earn the scholarship, students also must have a 3.5 GPA, be recommended by one of the learning advocates — or LEADs — and then also give time back through service once they are in school.
The end result is a grass-roots, self-funded initiative that is both sustainable and scalable in which students are inspiring students. And parents benefit, too.
For our students, this is the dream of a lifetime, Rother added. Because of the Learning Lounge, at just a quarter of a mile up the street, our students are familiar with the campus and the students, so this is a natural fit. They're at home.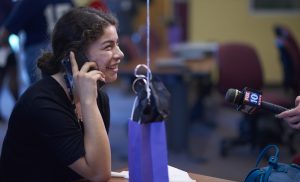 According to Rother, in 2016, 17 percent of the high school's student population attended GCU for college. She hopes those numbers will increase in the future.
At Glendale High School, 14 students were called into the library and given the good news.
Digne Deborah Muhimpundu's voice shook.
"I'm just crazy right now," she said before answering a Facetime call from a friend and pointing at her purple balloons and gift bag.
She laughed and added: "I'm still in shock — I just can't comprehend it."
Muhimpundu, who was born and raised in Africa and arrived in the United States a few years ago, said she knew she hadn't received the scholarship by chance. After all, she had maintained good grades while spending hours in the Learning Lounge every day after school. But it was the answer to her family's prayers.
Muhimpundu said she can't wait to take on the Pre-Med program at GCU and eventually get into medical school.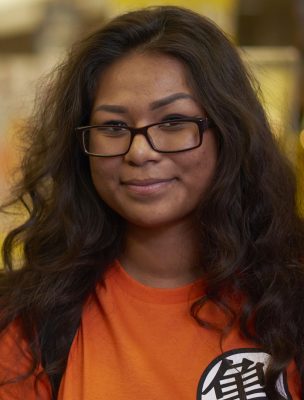 Guadalupe Cheverria was in disbelief Monday when she found out she was one of the recipients of the full-tuition scholarships to GCU. After a small ceremony in the school library, Cheverria expressed an overwhelming feeling of appreciation.
"My mom told me, 'If you work hard you'll get what you want,'" she said.
Mom was right.
"We're a family of six, and I am the first generation to go to college," said Cheverria, who maintained a 3.9 GPA at Glendale while working and caring for her three younger siblings.
She said she probably would have had to work two jobs if she hadn't gotten the scholarship to GCU, and she was sure her parents would have sacrificed their savings for her education.
Instead, she celebrated becoming the first member of her family to attend college by spreading the news to her family.
Later at Washington High School, the largest number of Students Inspiring Students scholarships were handed out and were followed quickly by smiles, hugs, tears and calls to parents.
Matthew Becktold, who snuck to the back of the ceremony room to call his mother, said he had to wait a few minutes to call her back after she had immediately began crying.
This means there will be a lot less stress financially, said Becktold, who plans to become a physical therapist. For the past two years I've been in all advanced-placement courses working to get academic scholarships, and this is all due to that.
Shaking, he added: "I don't know what to say."
Bindika Darjee, who was born in Nepal and arrived in the United States eight years ago with her two sisters and her mother, said she has always seen the value in pursuing an education, even if it meant she had to start from the bottom.
"First, I had to learn English, and every year I excelled," she said. "Then I got to high school and challenged myself by taking harder classes. Now, I'm here."
Darjee credits her single mother, a former  teacher, for her determination.
She taught me to make something out of myself, Darjee said. She also bragged about her badminton skills: I'm a natural athlete.
Darjee said she will follow her mother's footsteps as a teacher and serve as a role model for her sisters.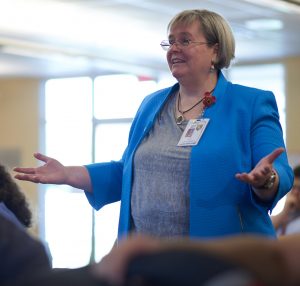 When all of the 18 scholarship recipients from Washington High huddled for a picture, Principal Tami Strege couldn't contain her pride.
"A lot of these students come from backgrounds that would have prohibited them from getting a college education – for some of these students the obstacles were financial and for others they were an accident of geography (they weren't born here)," she said, unable to control her tears. "Nevertheless they are so talented and so worthy of the honor GCU has given them in trusting them to go to Grand Canyon University to do such great things. That kind of investment is a once in a lifetime opportunity.
"Grand Canyon's motto is 'find your purpose,' but I think the University has found its purpose in serving the residents of this community."
---
Contact Jeannette Cruz at (602) 639-6631 or jeannette.cruz@gcu.edu.