It's official: Lakewood Catholic Academy (LCA) is an International Baccalaureate World School, authorized to deliver the IB Middle Years Program to students in grades six through eight.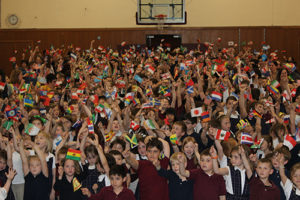 LCA is the first Catholic elementary school in the state to earn the distinction.  Additionally, LCA's partnership with St.  Edward High School, also in Lakewood, is the first of its kind in the country.
LCA officials said the distinction comes with great honor and great responsibility.
We are very proud of our entire community. Faculty members have worked tirelessly to grow and adapt as IB practitioners. Administrators, along with the LCA Board of Directors, have developed a long-term vision for the program and have secured support for its ongoing implementation. Students have shown impressive flexibility, openness and creativity. Our entire LCA community has been overwhelmingly supportive of this initiative, said Brian Sinchak, LCA president.
"We are now part of an impressive group of schools around the world determined to set and reach high expectations," Sinchak said, adding, "An IB school is one that commits to creating active and reflective classrooms, fostering international mindedness in its students, providing high quality teacher training, and using a globally recognized external validation process to ensure educational excellence."
Sinchak said the school remains Lakewood Catholic Academy.
Our Catholicity, our history and our unique community define us. We are honored to join the International Baccalaureate Organization, whose aim to develop inquiring, knowledgeable and caring young people who help to create a better and more peaceful world through intercultural understanding and respect, integrates so well with all that we stand for, he added.
"Our designation as an IB World School is certainly cause for celebration. This is a time to pause and reflect on our gifts and our blessings; but the pause will be brief," Sinchak said. "Our IB accreditation ensures that our standards will remain high and our efforts will not cease. We will continue forward, guided by faith, humility, and a deep commitment to providing the very best education to our wonderful students, our LCA Saints."