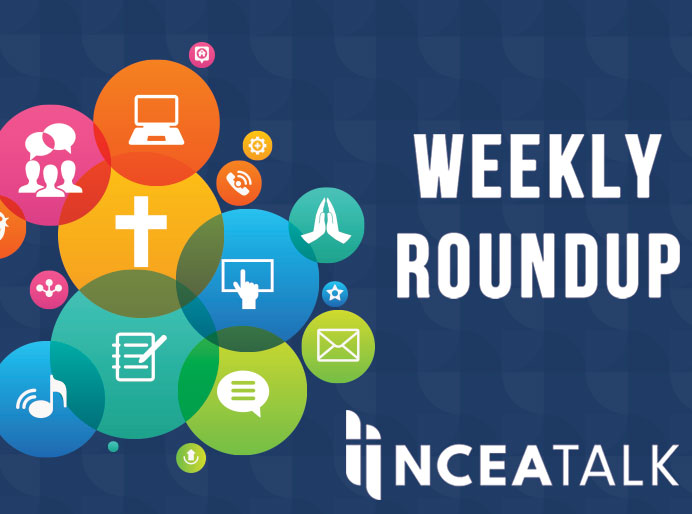 Didn't have the chance to check in with NCEA Talk each day? We've got you covered. Each Friday NCEA Talk will post a roundup of Catholic education news and resources from the week.
In case you missed it…
NCEA IS SENDING A TEACHER TO NCEA 2018!
Governance and Leadership in Our Schools
The Bishops' Curriculum Framework: An Overview
NCEA extends heartfelt thoughts and prayers to the Texas area Catholic school communities in the path of Hurricane Harvey, namely the Diocese of Corpus Christi and the Archdiocese of Galveston-Houston, as well as all the communities along the Gulf of Mexico.  May God grant them safety and the strength to withstand the storm.
---
Catholic School Educators: Call to Discipleship
NCEA is pleased to share its new weekly reflection series "Catholic School Educators: Call to Discipleship" for the new liturgical year. This series shares reflections for educators contributed by Justin McClain, teacher at Bishop McNamara High School and author of Called to Teach: Daily Inspiration for Catholic Educators. The weekly reflections are a regular feature in our Friday Weekly Round Up blog posts on www.nceatalk.org – check back each Friday for a new weekly reflection.
Twenty-first Sunday in Ordinary Time – August 27, 2017
Gospel Reading: Matthew 16:13-20
"[Jesus] said to them, 'But who do you say that I am?' Simon Peter said in reply, 'You are the Christ, the Son of the living God.' Jesus said to him in reply, 'Blessed are you, Simon, son of Jonah. For flesh and blood has not revealed this to you, but my heavenly Father.'"
If you know the Gospels well, you know that this is one of only a few times in which Simon Peter responds to a question from Jesus correctly. In fact, he answered so "correctly," and thus with such great faith, that Jesus named him the first pope (see Matthew 16:18-19). This academic year, you will have countless opportunities to expose your students to precisely who Jesus is: "the Christ, the Son of the living God." This is a precious privilege that we are able to enjoy in our Catholic school communities.
In what ways do you ensure that your students will leave your school community – in at most a few years from now – aware of who Jesus is?