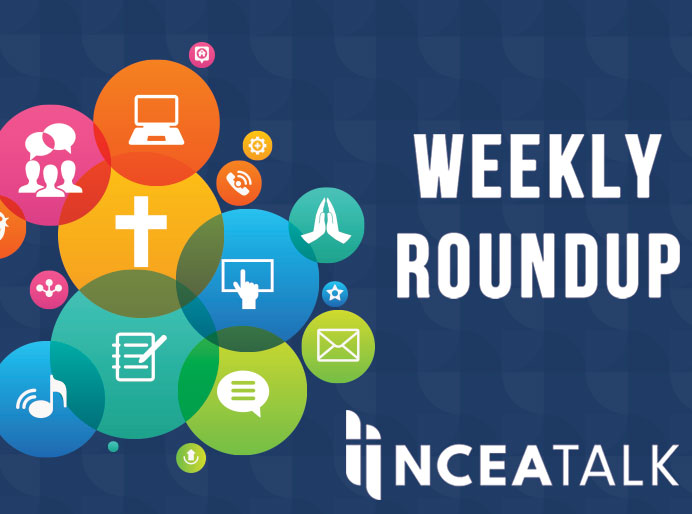 Didn't have the chance to check in with NCEA Talk each day? We've got you covered. Each Friday NCEA Talk will post a roundup of Catholic education news and resources from the week.
In case you missed it…
September Public Policy Updates
Activities, Scribbling and STREAM—Oh, MY! Early Childhood Conference
Week 3 of the Podcast (CLS Previews!)
Additional Resources:
Student to Student: A Catholic School Response for Hurricane Relief 2017 – #StudentToStudent
---
Catholic School Educators: Call to Discipleship
NCEA is pleased to share its new weekly reflection series "Catholic School Educators: Call to Discipleship" for the new liturgical year. This series shares reflections for educators contributed by Justin McClain, teacher at Bishop McNamara High School and author of Called to Teach: Daily Inspiration for Catholic Educators. The weekly reflections are a regular feature in our Friday Weekly Round Up blog posts on www.nceatalk.org – check back each Friday for a new weekly reflection.
Twenty-fourth Sunday in Ordinary Time – September 17, 2017
Gospel Reading: Matthew 18:21-35
"Then Peter, approaching, asked [Jesus], 'Lord, if my brother sins against me, how often must I forgive him? As many as seven times? Jesus answered, 'I say to you, not seven times, but seventy-seven times."
It is critical for our students in Catholic schools to know about God's forgiveness. They must know the importance of both asking forgiveness and showing remorse when they have done something wrong, and accepting forgiveness when someone has done something wrong to them but then showed remorse. Remember that it is also possible for teachers to say "I'm sorry" if they have done something wrong – this would be a very important lesson indeed!
How can we encourage our students to experience God's forgiveness?