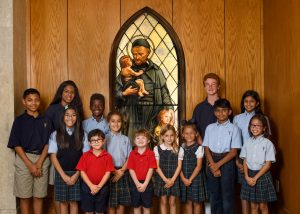 St. Vincent de Paul Catholic School is a parish school located in Houston, TX  serving 500 students from pre-kindergarten through 8th grade.  St. Vincent's rich tradition of academic excellence and spiritual development has produced high achieving students for over 70 years, and we are proud to note St. Vincent's was named a 2016 National Blue Ribbon School.
Catholic Identity is at the heart of everything we do, including student learning which includes a rigorous core curriculum enhanced by a myriad of enrichment electives.  St. Vincent's boasts a technology-rich campus, STEM-focused curriculum, competitive sports and extra-curricular activities, and an extensive Fine Arts program including an award winning Pueri Cantores choir that performed for Pope Francis at the Vatican in January 2016.  At St Vincent's, we know our students' walk to class goes hand in hand with their walk with Christ and special moments happen here every day.
It is the mission of St. Vincent de Paul Catholic School to develop students to their fullest potential in an environment permeated with Gospel values.
Values
We the members of the Saint Vincent de Paul Catholic community firmly believe:
Children learn best in a comfortable, nurturing environment where they feel safe, secure, and valued.
All children should be given the opportunity to achieve their full potential through instruction in the Catholic tradition and the academic disciplines to achieve intellectual competence and to learn service to others as modeled by Jesus Christ.
The partnership of parents and teachers working together greatly enhances a child's success in school.
All children deserve a school that challenges them to develop as life-long learners with self-respect, self-confidence, and self-discipline.