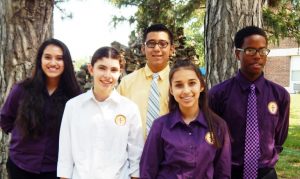 Cristo Rey Kansas City is one of 32 schools in the Cristo Rey Network. We are a private, Catholic college preparatory high school that exclusively serves students with high economic need.  We believe that what we are doing in urban cities across the United States is transforming our students, their families, and their communities.  Rather than charge a tuition, we seek students, who otherwise could not afford attend a Catholic high school, and form a three-way partnership to make the cost of education manageable.
Every student works one day per week in a corporate setting, earning approximately half of the cost of his or her education.
Every family undergoes a third-party income assessment that ensures that the student's family cannot afford the cost of education.
Cristo Rey inspires donors to fund the gap for each student.
Through a longer school day and school year, students complete a rigorous program of studies. At graduation, each will have earned 34 credits, which is 10 more than are required by the State of Missouri. In addition to the life-changing experiences gained on the job, students graduate with a four-year resume. We are proud of the determination of our students. We are very proud that they are beating the odds with 100% of graduates being accepted to college. We track – and support – our graduates when they are in college. Fully, 87% will be the first in their family to attend college. This innovative model allows our students to work to learn and learn to work.
Our Mission
Cristo Rey Kansas City provides a Catholic, college prep education enhanced by an innovative corporate work study program to culturally diverse students with economic need.
Our Core Values
Integrity – We value honesty and authenticity of character and action.
Respect – We believe in the dignity and worth of each person and we value treating everyone with courtesy and upmost regard.
Responsibility – We value a trustworthy accountability in all our works and relationships.
Partnership – We value connecting and working with others to promote cooperation and new possibilities.
Spirituality – We believe in God's constant, loving, presence and we value openness to divine guidance in all we say and do.
Cristo Rey opened in 2006 and serves 386 students who live in Kansas City, Missouri and Kansas City, Kansas. Our Vincentian character is very compatible with the charism of our sponsors, the Sisters of Charity of Leavenworth.