Perception and (Re)-Positioning
Perception and positioning are two of the most critical marketing concepts to understand.
Perception is how your customer sees your service or product, while positioning is how you wish to be seen. The classic example asks: What is a Rolex? The standard answer is a watch. While true, from a marketing point of view, a Rolex is something entirely different. A Rolex is a status symbol; I have arrived; I am a VIP, etc. A Rolex creates an altogether different perception, then a Timex. But, both are "watches."
Your community also has a specific perception regarding your school. Maybe you are seen as a leader in STEM, possibly a powerhouse in athletics, even a welcoming community. On the other hand, without purposeful marketing (positioning and communication) your community knows little about your achievements/excellence and may draw different conclusions. In marketing, perceptions are the reality.
Developing a list of positioning statements begins with the question, how do we want to be seen?
When someone thinks of your school, what attributes would you hope comes to mind? Leader, community-oriented, welcoming, academic excellence, character development would undoubtedly top the list for most schools. On the other hand, if marketing has not been a priority, you may need to re- position your school, overcoming some preexisting perceptions.
Communicating Your Position Through Live Streaming
Once you have a list of positioning (or re-positioning) statements developed, you then need to find a communication channel to get the message(s) out to your community. Today that communication channel is social media. The typical private high school has 4,000 social media followers (2200- Facebook, 850-Instagram, 900-Twitter). Facebook users typically check-in eight times a day and spend 35 minutes on social media. Social media is a fantastic opportunity to communicate your messages, very cost-effectively.
As discussed in a companion paper: "Converting Followers into Active Supporters," live streaming of games and events unquestionably offer the highest level of viewership and engagement. Take the lead from TV college sports and embed your marketing messages during halftime or as pre/post game events. You have a captive audience of students, parents, grandparents, and alumni watching, why not communicate your excellence and achievements, while you have their attention!
Positioning / Live Stream Messages
The chart below summarizes some potential positioning statements and how these positions can be communicated using videos and live streaming. For example, just the incorporation of live streaming demonstrates your status as a leader/innovator. Live streaming of STEM classes communicates your emphasis on these programs (overcoming perceptions that private schools are technically outdated).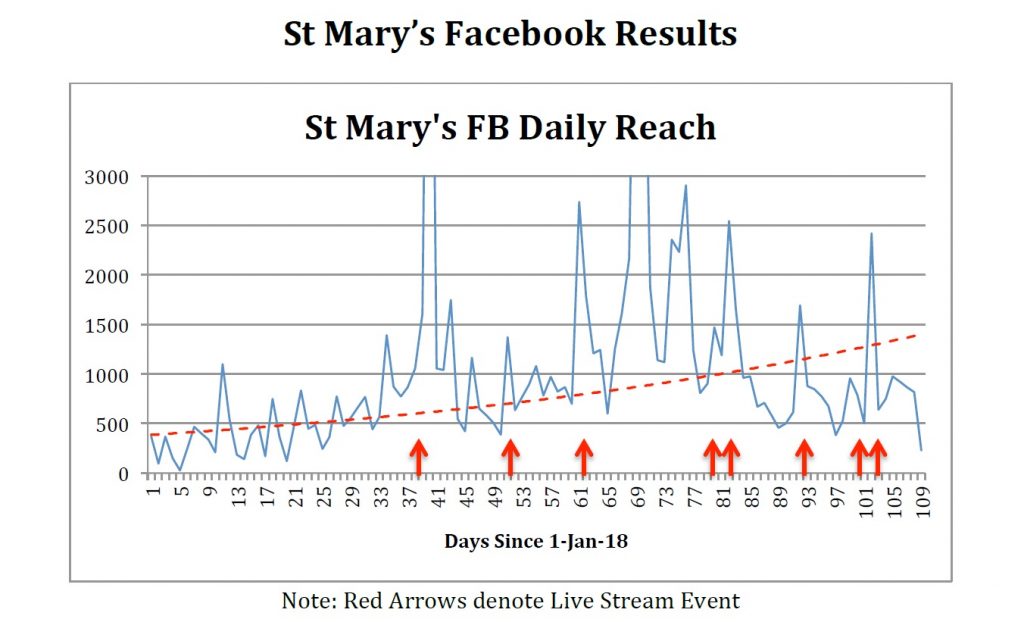 Show off your biology program with a frog dissection, your chemistry class with a lab experiment, your robotics program with a car maze competition.
Consider introducing your faculty (pre-recorded video) during a sporting event. Parents want to connect with their child's teachers. Encourage your teachers to craft memorable introductions. The more prospective parents know about your school, the more likely they will enroll their children.
If you want to convey messages of excellence, consider live streaming an NHS Induction or an awards assembly. Insert slides showing your student's academic achievements. Best yet, live stream your graduation. Interview international students to show your diversity. Try to live stream as many different sports and events as possible, communicating your pride in all your students.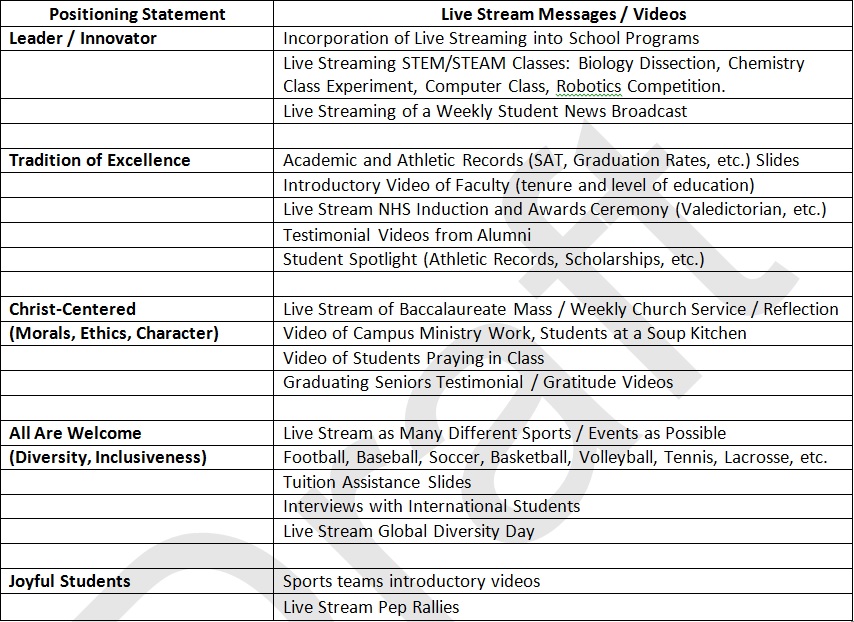 uTV marketing offers the technology and marketing expertise to create engaging programs that move social media analytics. Our easy to use live streaming product provides ESPN level sports productions with scoreboard data overlay; instant replays, school logo integration and on the fly highlight clip generation. Our ever-growing library of videos and documents offer a comprehensive guide to developing marketing programs that communicate your school's excellence.
---

Mike Schell, President of uTV Marketing, is passionate about marketing Catholic schools. He attended Catholic schools as a child and his children graduated from St. Mary's High School in Colorado Springs. He and his wife, Patricia, are active members of the local Catholic community. He can be reached at mike@utvmarketing.com.