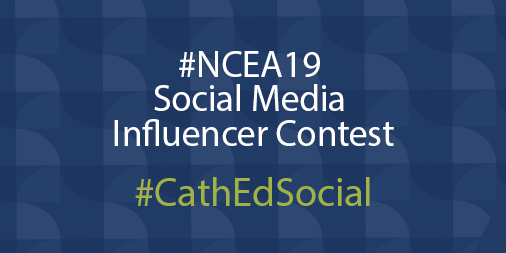 We are pleased to announce the eight participants of the Send A Teacher to NCEA 2019 Convention & Expo in Chicago Social Media Influencer Contest!
Beginning Monday, September 24, NCEA will follow the progress of the following eight individuals as they make their mark in the social realm of Catholic education. NCEA will provide a topic (provided below) for each week and they will use social media to share, engage and inspire the online community! NCEA hopes you will follow this year's participants and engage on social media with others to build a buzz around Catholic school education.
As always, NCEA encourages everyone to follow, retweet and interact with our contestants using #CathEdSocial – to spread their messages and spur their engagement via cross promotion of their social strategies!
Week 1 (September 24): Why Choose Catholic Education?
Week 2: (October 1): Professional Development for Catholic Educators
Week 3: (October 8): Early Childhood Education
Week 4: (October 15): Catholic Schools: Learn. Serve. Lead. Succeed
Week 5: (October 22): STREAM
Week 6: (October 29): Exceptional Learning in Catholic Schools
Week 7: (November 5): Digital Discipleship
Week 8: (November 12): NCEA 2019: Convention and Expo – Prelim. Sessions of Interest
Thanksgiving Break: November 19 – 23: No Posts
Week 9: (November 26): Leadership in Catholic Schools
Week 10: (December 3): Catholic Identity
---
Megan Sprenger
Teacher at St. Francis Xavier School
Diocese of Jefferson City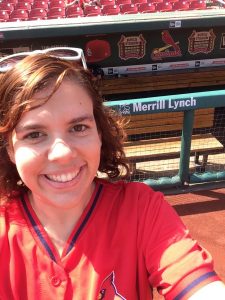 What was the best part of NCEA 2017 in St. Louis? The Twitter session where I learned how easy it was to connect to such a large group of educators! Since my first Twitter chat, I've learned so much, gotten great ideas I've already integrated into my classroom, received great advice, and have become a better educator! I've connected with more teachers on Facebook thorough different groups and loved the awesome free online conferences and webinars!
Since I'm the only teacher at my school that teaches Kindergarten-8th grade technology and middle school science and reading, both of these social media platforms enable me to engage with teachers that also teach these subjects and age levels. It's a way to lesson plan that you can't do if you don't have a co-worker that teaches the same thing!
I have become more active on social media the last two years, especially Twitter, and have absolutely loved it! I would love this opportunity to build my #PLN on Twitter and Facebook, connect with fellow Catholic school teachers, and become an even better teacher! This would also be a great opportunity to showcase the awesome Catholic school I attended as a student from Kindergarten-8th grade and now as a teacher, along with showing the world the awesome things my colleagues do! I also played a large role in starting and am continuing my school's social media presence. It's a great way to engage our community, not only our school families but also our parishioners, through Facebook and Twitter
---
Bobbie French
Principal at Saint Anna Catholic School
Diocese of Worcester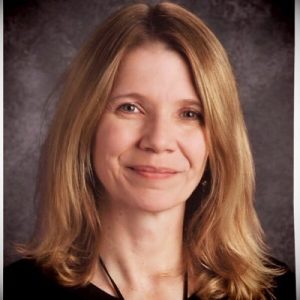 St. Anna Family Friday Mail Blog Site
Reflections from the Principal's Office
It's important for all schools to tell their story but we want to get word out about how amazing our Catholic schools are and all they have to offer families.  We pride ourselves in sharing what is happening at our school and keeping families and the community connected.
This year will we also be implementing a Social Media Ambassador program to train middle school students to help tell our story through the student's eyes.
---
Emily Thompson
5th grade teacher at St. Pius V School
Diocese of Providence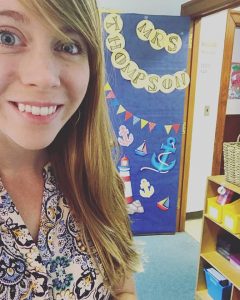 Social media is a present day gift we have as Catholic educators to share ideas, inspire others, and evangelize! By using various social media platforms, we have the ability to share the mission of the Church and Catholic schools not only within our Catholic school communities, but with our global community as well. On a practical level, social media use is also a convenient and fun way to keep parents and families informed about what is happening in the classroom on a daily basis. I want to network with other Catholic school teachers and share ideas. As a result, I hope to grow both in my teaching and in my faith!
I also believe I have a unique perspective to offer, as the first 4.5 years of my teaching experience was in public schools. During that time, I longed to be able to share my Catholic faith with my students, but was not able to do so. I knew I would send my children to our parish school, run by the Dominican Sisters of St. Cecilia, when they were school age, and it was always a secret dream of mine to teach in a school just like the one I planned to send my children to. As God's Providence would have it, a position opened up mid-year at that exact school, and I finished out my fifth year of teaching as a fifth grade teacher at St. Pius V School! I feel so incredibly blessed to be teaching in the exact school I have planned to send my children to for years, especially with the perspective of previously teaching in a public school. I am keenly aware of the incredible impact Catholic schools can have on children, and it is an experience I wish I had growing up. I feel it is my duty to share the joys and fruits of Catholic education, and social media is the perfect way to do exactly that! Social media has many practical purposes, but the ability to share what is truly unique about Catholic schools on modern, accessible platforms is by far the most important.
---
Doreen Engel
Adjunct Faculty Member and Professional Development Consultant at the The Andrew M. Greeley Center for Catholic Education
Diocese of Providence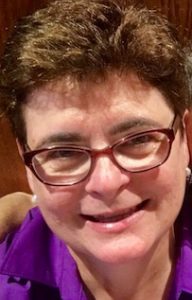 I am eager to:
Get more Baby-Boomers tweeting. They can learn a lot, and share their wisdom with young teachers who enjoy this platform.
Share and learn with my colleagues nationwide who are passionate about bringing Inclusion to Catholic Schools.
Reach out to families, particularly those that have a child with a disability, about the wonderful gift that is Catholic Education.
Share my Catholic faith in a gentle and public way.
Continue to be a lifelong learner! Tech is here to stay, and I want to keep current no matter my age.
---
Amy Pietrowski
Language Arts teacher at the School of the Incarnation
Archdiocese of Baltimore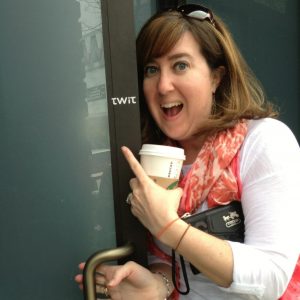 I had been teaching for many years before God called me to Catholic education. We were moving to the metro DC area, and I was searching for a job in Educational Technology. This is my passion, and after stumbling onto the School Spring website, I found St. Mary of the Mills in Laurel, MD. As I sat in "New Teacher Orientation" for the Archdiocese of Washington that summer, my first thought was, "This is not my mother's Catholic School."
And it wasn't.  As I quickly learned, the Catholic Education community was much like the public schools I had come from: Full of seasoned educators trying to create the best possible educational experience for all children. The bonus? It was faith-based! The mission of Catholic Schools is a quiet one, but should be shared!  For that reason, I began immediately sharing my experiences on Twitter. As a technology leader in my school, I tweeted what we were doing, but also encouraged the principal, the pastor, and many teachers to exhibit their classrooms and learn from others via this platform.
This year, after heading back to the Language Arts classroom, I added an Instagram account to share the amazing things my students were doing. It is important to reach folks on the platform that they are comfortable with and to celebrate our everyday accomplishments. I wanted both professionals and parents to see and appreciate how wonderful Catholic education is. I now work in the Archdiocese of Baltimore, but I share to both the Archdiocese of Washington and AOB hashtags because of the many connections I have made in both areas.
My voice could and should be bigger! This is why I would love to continue my mission of giving Catholic education a voice with the NCEA Social Media Influencer contest. I'm ready to "break out" of the DC/Baltimore area and promote our great Catholic schools across the nation!
---
Keven Rinaman
Director of Technology at Calvert Catholic Schools
Diocese of Toledo
Teacher's Tech Toolbox Blog Site
Over the past ten years in education, I have found myself growing passionate about educational technology, especially in the Catholic school setting.  One evening nine years ago, I decided to create an account on the new social media website, Twitter.  Little did I know the great impact this would have on my career.
This simple step opened me to a connected world of like-minded educators all around the globe, searching for a means to share and collaborate with others.  I have grown with my PLN and found how relationships with others on Twitter have sparked ideas and collaborative projects from schools miles away.  Each year I look forward to launching my "Advent in Action" project, challenging students at all grade levels, across many Catholic schools to demonstrate what makes our setting special, our faith.  I also look forward to bringing back the "Living Lent With Love" Challenge, which asks students to complete local community service and in turn challenge another school to do the same somewhere else.  Activities like these strengthen our identity as Catholic schools while helping to generate a buzz locally in communities.
Social media is not an inherent negative, it is all about how you use it.  I would love the opportunity to demonstrate the positive culture that can be created.
---
Denise Brickler
Middle school Math and Science teacher at Christ the King Catholic School
Archdiocese of St. Louis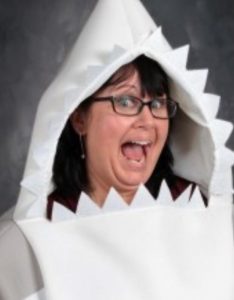 I am returning to the classroom as a Catholic school middle school math and science teacher, something I have not taught before, to a Catholic school that I have not taught at before. In my mind, this school year is a new journey, a new adventure, and the ultimate chance for me to learn and grow as a Catholic school teacher.  It would be my honor and privilege to showcase my vulnerability in teaching new subjects at a new school using social media.  Previously, I taught in Catholic schools in the Archdiocese of St. Louis for 16 years.  Last school year, I served as Principal of a K-8 Catholic school for the first half of the school year, and I substitute taught and served in youth ministry for the second half of the year.  Returning to have my own classroom after some administrative experience and subbing experience will be a learning adventure for all!
In my new school, there is no social media presence established or maintained by the Catholic parish or by the Catholic school associated with the parish. This is my ultimate chance to show the Catholic school community at my new school, including my new pastor and my new principal, that social media is an important collaborative tool for teachers to develop relationships, share best practices and ideas for teaching, and promote the charisms and Catholicity of the Catholic school.  I am so excited to be coming to this new school to help them ease into the marketing aspects of using social media to tell their story.  There is no school hashtag; there will be one when I am finished, which directly relates to the Catholic charisms of the school.  There is no school Facebook, Instagram, or Twitter pages; there will be when I help them set them up and teach them how to maintain them.  This social media adventure and my involvement in starting this would be a FASCINATING aspect of my documentation for the Social Media Influencer Contest and can help many Catholic schools who may be trying to do the same thing.
My love of and dedication to Catholic education is a direct result of my zealous and immense love for Christ and His Church. I am a tenacious follower of #CatholicTwitter, and I feel that if more Catholic school teachers were united to the mission of Catholic education, which is to form intentional and missionary disciples of Christ. I _love_ Jesus, and I _love_ teaching in a Catholic school.  My goal is to intentionally lead other Catholic school teachers to love their teaching vocation too.
---
John Meehan
Instructional Coach at Bishop Denis J. O'Connell High School
Diocese of Arlington
Education Gamechangers Blog Site
In 2005, I graduated with an undergraduate degree in English from The Catholic University of America and began a career in public relations. While working towards my Master's Degree in English at CUA, I started my career as a social media strategist and event marketing professional for the school, and I went on to spend five years building and maintaining infrastructures to help both the public affairs office and the alumni relations program of my alma mater take advantage of early social media channels through LinkedIn, YouTube, Twitter, Google's Picasa, and Facebook.
In 2010 I made the jump to classroom teacher by gaining admission to The New Teacher Project, where I began work as a high school English teacher in the public school system of Prince George's County, Maryland. I saw firsthand just how powerful the very same marketing techniques that I had once learned while promoting engagement and media attention for events at Catholic could be when applied to the classroom, and I immediately made social media integration and 21st century media literacy a cornerstone of my daily lesson planning and assessment design activities.
After two years with PGCPS, I returned to my Catholic roots and joined the faculty of Bishop O'Connell High School, where I now serve in a hybrid role — working both as a classroom English teacher and as a school-wide Instructional Coach, in charge of research, training, and innovation efforts in teacher pedagogy and student engagement strategies. Social media continues to play a major role in the work that I do — through taking part in Twitter chats, appearing as a guest on education podcasts, reading teaching blogs, connecting with fellow educators at Edcamps, and presenting at diocesan, state, and national conferences while sharing our successes online — I'm able to bring vibrant new pedagogies into our school's instructional efforts, and I'm likewise able to share best practices and help our teachers connect with the world outside of our school as we showcase the phenomenal things that are happening every single day at O'Connell High School. Blending my background in social media with my lifetime love of learning has opened amazing doors not only for me, but for Bishop O'Connell High School and our outstanding faculty — and we have had the tremendous honor of presenting sessions at each of the three most recent NCEA conferences in San Diego, St. Louis, and Cincinnati since I assumed this current role as instructional coach. I credit Twitter, specifically, for helping me keep a finger on the pulse of best practices in education around the country, and I am eager to help Catholic educators the world over see the transformative power of innovative social media platforms when committing ourselves to lifelong learning, embracing the opportunities for dialogue that these incredible technologies now afford us, and sharing the good news of the unparalleled work that we do in our schools.
Simply stated, Twitter is a game-changer. And I can't wait to help fellow Catholic educators change the game!
---
Kevin Peloquin
Academic Dean at St. Pius V School
Diocese of Providence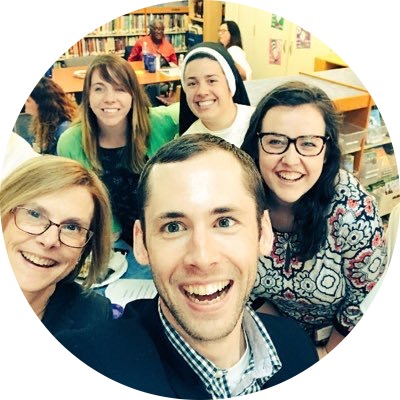 My principal suggested that I start using a professional twitter to promote the many great things happening in our school community. Little did I know, my principal would soon be critiquing ALL of my tweets (in a good-natured, fun-loving way of course!). Did I use enough hashtags? Did I use the right hashtags? Did I tag anyone? I can't wait to participate in this competition to show my principal I'm really a great "tweeter!"