This Christmas season, Catholic schools across the country are mobilizing students to participate in Box of Joy, a ministry of Cross Catholic Outreach that blesses poor children in developing countries by sending them gift boxes packed with small toys, treats, school supplies, toiletries and apparel. Cross Catholic adds a rosary and "The Story of Jesus" coloring book as an extra blessing for this Catholic evangelization ministry for children. For many poor children who have never before received a Christmas gift, a Box of Joy is a source of hope and a pure delight!
This Christmas, Cross Catholic set a goal to mobilize faithful Catholics to pack more than 70,000 Boxes of Joy for poor children. In 2017, 46,360 children in four countries received gift boxes. That same year, Box of Joy brought together participants from 48 states, mobilizing thousands of volunteers and receiving support from 476 participating schools, parishes and groups, including National Council for Catholic Women and Knights of Columbus.
We've been blown away by the positive response from Catholic schools in the United States," said Cross Catholic Outreach President Jim Cavnar. "Students love the program because they are able to connect with children in another culture and are empowered to be part of the Church's global mission to share the Gospel.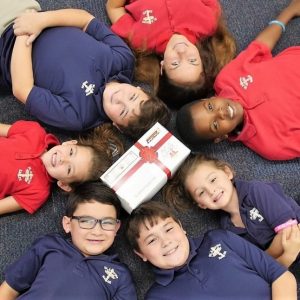 Box of Joy provides a service-learning opportunity that engages students, positively influencing the next generation of Catholic leaders. Through this program, students are provided with the opportunity to put their faith into action, participate in a meaningful social justice activity and live out the Corporal Works of Mercy through a hands-on experience. Cross Catholic Outreach believes that Catholic students can change the world, and Box of Joy helps them take the first step.
"What's unique about Box of Joy is that it not only brings a special Christmas memory to thousands of poor children, but it also ignites a passion and love for others in the Catholic students and families who are packing and sending the boxes. It's a win-win opportunity," Cavnar continued.
Don't miss the opportunity to participate in next year's Box of Joy! Mark your school's calendar now for National Collection Week, Nov. 2-10, 2019. Cross Catholic Outreach will provide all the supplies you need for this inspiring service project, including fillable gift boxes. To learn more about Box of Joy, go to www.CrossCatholic.org/BoxOfJoy or contact Tessie O'Dea at 800-914-2420, ext. 158, or by email at TOdea@CrossCatholic.org.