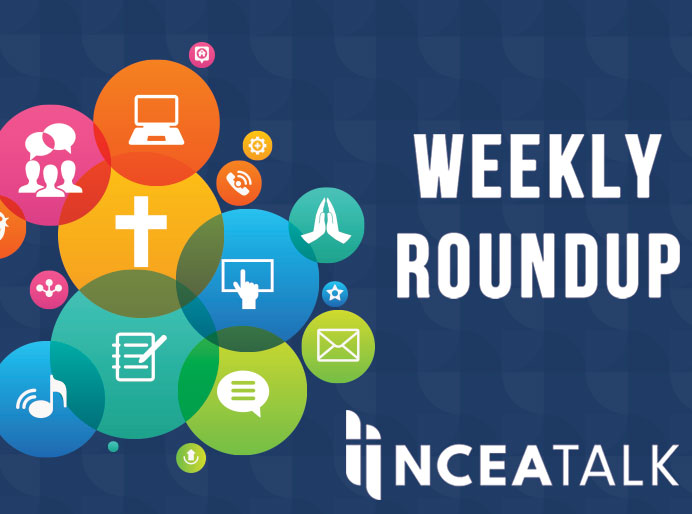 Didn't have the chance to check in with NCEA Talk each day? We've got you covered. Each Friday NCEA Talk will post a roundup of Catholic education news and resources from the week.
In case you missed it…
Catholic School Matters Radio Hour
Happening Next Week
Many Gifts, One Nation: A Day of Giving to Catholic Schools is January 29 – 30, 2019 during National Catholic Schools Week. Schools now have until FRIDAY, JANUARY 18, 2019 to customize their giving pages. If you need your log-in information resent, please email nceagiving@factsmgt.com.
Webinars
Major Announcements & Deadlines
Mark your calendars for Summer Professional Development!

The 2019 NCEA New Directions STREAM 3.0 Conference is taking place June 17 – 18, 2019 in Parsippany, NJ. More information about this innovative and engaging conference is available at www.NCEA.org/stream.
The Institute for Catholic School Leaders (ICSL) will be July 14 – 17, 2019 in Indianapolis, IN. Please check www.NCEA.org/icsl for details about this dynamic leadership conference!

Calling teacher leaders! Do you have an idea to address a perceived need in your school, district or state? The Teach to Lead® team is accepting idea submissions through January 28 for its 17th Teacher Leadership Summit, March 29 – 31 in Philadelphia, where teams will receive critical support to turn their ideas into action. Private school teachers are eligible to apply.
TEAMS (Tests of Engineering Aptitude, Mathematics and Science) is a one-day engineering competition for students in middle and high school. The 2019 competition theme is "The Engineering Brain" and is composed of three components related to the theme – designing and building a solution to a problem, rigorous math problems and an essay. All competitions occur between February 13 and March 17. Learn more on the TEAMS website. Schools that are members of NCEA can use code NCEA to receive a 30% discount off of the national registration fee of $150. For more information, contact Jenn Glover, TEAMS Manager.
At this time, the 2019 Visions for Excellence Early Childhood Seminar on April 24 during the NCEA 2019 Convention & Expo is SOLD OUT. Please watch your email for information on the waiting list for this event!
The National Speak Up for Digital Learning Survey Project is open for participation through January 31, 2019. Learn more about this important program.
Relevant Resources