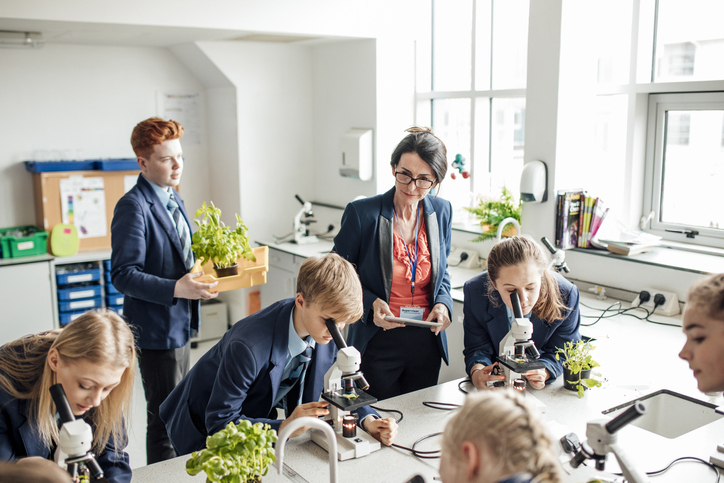 This blog was contributed by Meg Draeger, STEMM Coordinator at Chaminade Julienne High School in Dayton, OH.
I am looking forward to the upcoming STREAM 3.0 Conference. I had the privilege to attend and present at the inaugural NCEA STREAM Conference held at the University of Dayton in 2014. The school where I work is celebrating its 11th year of STEMM (Science, Technology, Engineering, Math, and Medicine) programming, which, at the core, is STREAM programming, because of our Catholic identity.
In anticipation of the conference, and in preparing my presentation, I have been more attuned to the STREAM in our everyday lives, in many places. An engineer by formal education and previous work experience, I have little trouble pointing out to students examples of engineering and STEM all around us, and in our daily activities. What I've found recently is that it isn't too difficult to identify examples of STREAM at work around us as well.
The beauty and awakening of spring – the sounds – mostly birds and lawn mowing, the sights – early and long daylight, vivid and saturated colors of grass, trees, flowers, and sky, the fresh smells, the textures of nature, and taste of cold drinks and spring produce.
The beautiful presence, hospitality, and service of religious Sisters and Brothers in planning my road trip from Ohio to New Jersey for the conference; I found what I expect to be a hidden gem of overnight lodging available at the Benedictine St. Emma's Monastery in Greensburg, PA. Additionally, last week I attended a Morning of Spirituality with the Sisters of Notre Dame de Namur in Cincinnati, OH where an inspiring group of women gathered to reflect on "Awakening the Beauty of God's Creation".
The presence of so many good people in a variety of organizations in my local community doing good and serving other good people's needs was heartening. My school's graduating seniors recently completed and presented their capstone projects which integrate social justice issue research, writing, and action in their local community.
It's a shame that the STEAM acronym cannot be expanded to include an "F" and still be pronounceable, because I believe it is easier to discover and share with others – whether formally in classrooms or informally in other settings – the Faith around us, rather than using the term "Religion". Using the term "Faith" seems to more naturally evoke thoughts and recognition of people doing, acting out their faith, and practicing their religion, rather than church buildings, physical objects, and doctrines.
I recently visited a public high school and career tech program where engineering students presented technical design and build projects that serve others: a modified tricycle for a teen with cerebral palsy, a board game modified with electronics and Arduinos for special needs children to play, and a prosthetic arm to be given to a 5-year old child in their school district. If those are not models of STREAM, I'm not sure what are.
Numerous examples abound of post-secondary students putting their faith in action while pursuing technical degrees: Engineers Without Borders, Doctors Without Borders, the University of Dayton's ETHOS program, Purdue University's EPICS program, Wright State University's Catholic Medical Student Association.  A majority of colleges and universities also offer alternative break service trips or semesters of service, some of which rely on particular STEAM skills and knowledge of students.
STREAM education continues to evolve since NCEA's introduction in 2014.  As long as humans pursue scientific and technical learning and strive to meet global challenges such as hunger, water safety and scarcity, climate change, health and wellness, alternative energy, urban infrastructure and cybersecurity, those same humans, who represent a diversity of faiths and spiritualities, will continue to reflect those beliefs in their work, and so provide role models and examples of STREAM in action in our world.
If you haven't already registered for the NCEA STREAM 3.0 Conference, do consider attending. We will be a vibrant body of faith-filled educators and practitioners striving to teach and inspire students of all ages.