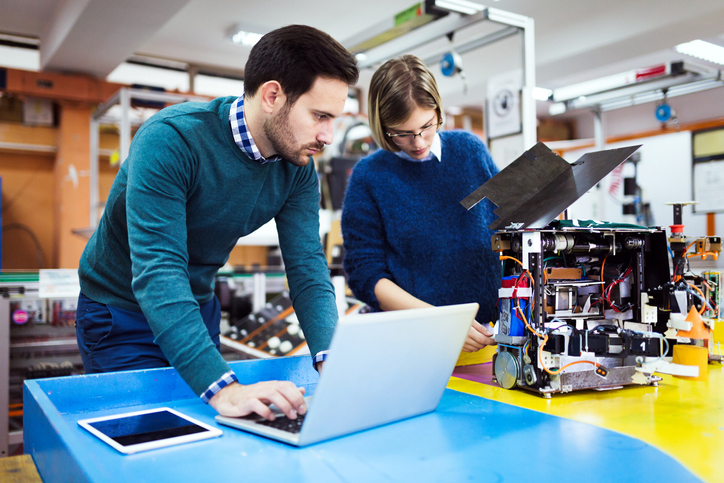 The following blog was contributed by Meg Draeger, STEMM Coordinator at Chaminade Julienne Catholic High School in Dayton, OH.
Just a little more than a month after attending the sold out NCEA STREAM 3.0 Conference in Parsippany, with more than 300 other STREAM educators from around the country, I've had some time to reflect on conference learnings, and the network of attendees I met and with whom I interacted before, during, and after the conference. Pam Bernards and Mary Baier referenced the NCCB Message on Catholic Education, originally published in 1973: To Teach as Jesus Did.  The document suggests that the "educational mission of the Church" is three-dimensional: the message revealed by God (didache) which the Church proclaims, fellowship in the life of the Holy Spirit (koinonia), and service to the Christian community and the entire human community (diakonia). My experience attending the STREAM 3.0 conference included all three.
The NCEA mantra "Learn.Learn.Proclaim.," in the framework of STREAM, was evidenced in the opening liturgy, the student choir and cantor, Msgr. Tillyer's homily, and the worship by our community of Catholic educators united for a common cause. The Student Showcase of STREAM projects and school programs was evidence that students are being taught the Catholic message and engaging in learning and service to their world. Dr. Verner's opening general session about neuroscience and brain functioning supported the fact that science and religion can and do co-exist to enable us humans to understand and optimize the wonders of God's creation. Breakout session presentations offered opportunities and inspiration to continually improve our performance as Catholic educators, for the benefit of students.
My road travel from Ohio to New Jersey for the conference included overnight lodging at St. Emma Monastery in Greensburg, PA, where I experienced the faith and hospitality of a small monastic Benedictine community of Sisters thoroughly devoted to pray, live, model, and serve Jesus' message of goodness and love. Volunteers from around the country generously give of their time, talents, and treasure to support the Sisters and the wide community they touch, and, in return, the Sisters offer hospitality, prayer, and support for the greater community in need. I cannot help but wonder what a different world it would be if all families were to commit to stop seven times each day, in the midst of their work, to pray and center themselves as the Sisters do, or to engage in just a single silent family meal, and focus on the Source of it all.
Upon leaving the conference and heading west, my drive took me through a quaint small town in western New Jersey named Hope. How fitting, as I reflected on new ideas I'd learned at the conference, and the energy I felt to try when I returned to my school in August. Just outside that town, I passed a pig farm with a field full of varied colored and patterned pigs, which brought to mind Greg Dhuyvetter's Closing General Session, in which he shared the tale of the three little pigs, STREAM-style, and encouraged us to build long-term success for our STREAM programs. A very small town, but sending a very big message, just by its very short name.  We never know the large impact seemingly small actions or ideas may have, on an individual student, in a classroom, a school, a region, or the world. Consider the growth of our NCEA STREAM community, from Dayton in 2014 to Parsippany in 2019.
Back for one night on my return trip at St. Emma Monastery, I met a woman staying a few nights there who works as a writer for the semiconductor industry in California—STREAM in action! A Catholic female STEM professional who takes time to retreat for three days each year at the monastery. Someone whose story I only learned by engaging in conversation while exiting the chapel after evening Vespers. The significance of story. Let us all continue to dedicate ourselves "to teach as Jesus did." Use His message, His stories, parables and examples, in the spirit of hope and love in a world so in need of those, in service to the students and families we serve, and the greater world community our students will serve in their future. That is, after all, what STREAMing should be all about.