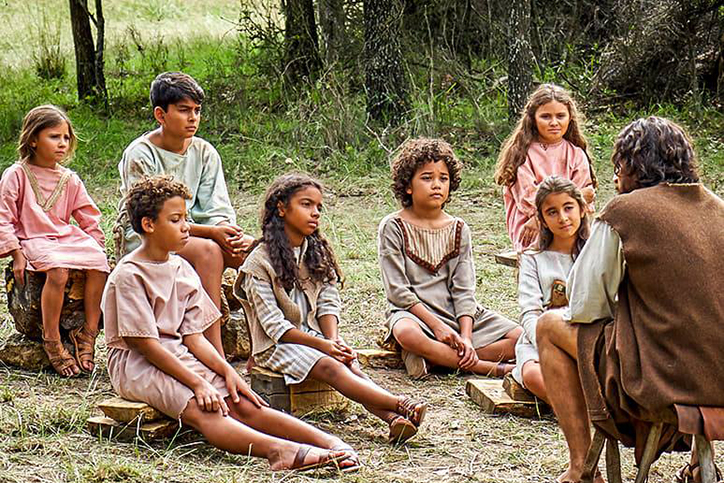 The following blog was contributed by award-winning author, speaker and teacher, Amy J. Cattapan. Follow her at AJCattapan.com.
A few weeks ago, I shared how middle school and high school teachers can use the TV show The Chosen to introduce students to Lectio Divina. However, this new viral show about Jesus also offers ripe lessons for elementary students.
In particular, Episode 3 (which works as a standalone and can be viewed for free on YouTube) lends itself to many teachable moments applicable to young children. In that episode, we see Jesus just prior to His ministry. He has a small camp outside Capernaum where he is working as a craftsman when a group of children find and befriend Him. They assist Jesus in His chores while peppering Him with questions.
Jonathan Roumie, the devout Catholic actor who portrays Jesus in The Chosen and who taught first and second grade catechism years ago, said that the biggest lesson he hoped children would get out of Episode 3 is to not be afraid of God. "Our God is a loving God. He's not an angry God," said Roumie. "Children should feel that they can approach God with any questions that they have or anything that's on their mind or anything that they're unhappy about."
After viewing Episode 3, kindergarten teacher Kathy Leisten from St. Maria Goretti School near Chicago loved the scene where Jesus sits down with the children in a setting reminiscent of a classroom. "The part where Jesus is teaching all the kids while they sit and ask questions is very powerful," said Ms. Leisten, "and I loved the messages He sent."
Part of that scene focuses on how a boy responded to a bully. The boy is upset that he was punished for pushing a bullying, and Jesus takes the opportunity to teach the children an alternative way to respond without resorting to an "eye for an eye." When faced with a bully, Roumie explained, "Our first reaction is to get angry and to shove somebody. That's where Jesus is calling us to a higher place. He's calling us to a much greater attribute within ourselves that is often difficult to access, especially as a kid." Roumie suggested that this scene could be used to teach kids to find ways to bring compassion into conflict and to find the fine line between defending yourself and being compassionate.
Ms. Leisten found several other scenes that offered teachable moments for history lessons. "I liked the part where the two kids first saw Jesus and how he was working on his wood projects," Ms. Leisten explained. "It was an excellent visual on how people traded for goods. I would also show the scene where Jesus has work to do and how they help him—another excellent visual resource on what kids would have done back then for play and chores."
Whether you're using it for religion class, history lessons, or anti-bullying curriculum, Episode 3 of The Chosen will introduce children to Jesus as a loving and gentle teacher and help us all remember that we have a loving and merciful God.