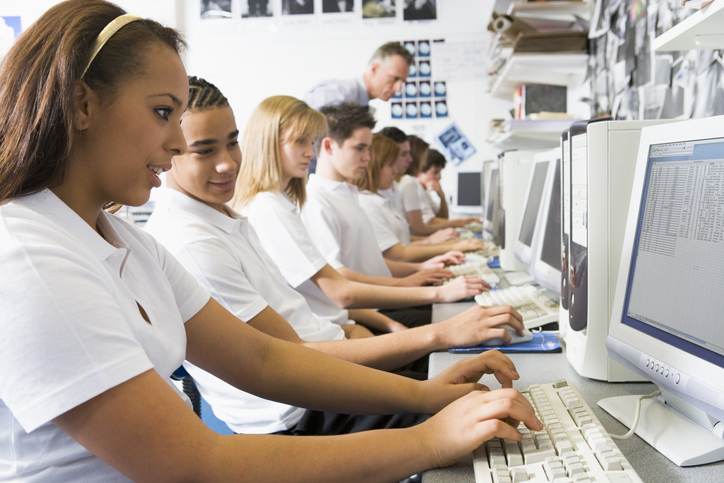 The following blog was contributed by Philip Dujardin, a theology teacher at Matignon High School in Cambridge, Massachusetts.
Our daughters' Catholic school was in a crisis. At one particular intense meeting, a priest assigned to hearing parent concerns made mention of a philosophy that is gaining popularity among Catholic leaders: Every school must financially support itself. Those that cannot will be forced to close. In short, our Catholic schools are now considered businesses, separate entities who will demonstrate their worth by their financial sustainability.
This sounds like a practical idea. People are willing to spend money on a service or product worth offering. Contributors demonstrate confidence by investing in businesses that will make a difference in people's lives. Parishes and dioceses, freed from the obligation to support often struggling schools, would finally be able to focus their efforts on serving parishioners' sacramental needs, church building maintenance, and other ministries that will sustain the Church into the future. Perhaps the school building itself could be rented to a local organization, perhaps even a charter school, that will provide consistent funds for the parish to make ends meet.
Despite good intentions, the idea that schools should operate as independently financially viable businesses threatens the existence of Catholic education itself. Our schools are not businesses, they are ministries. The shared mission of our schools is now more important than ever: Enrich the lives of young families by educating through the lens of our Catholic values. Unlike the alternative, students and teachers can mention the name of God as the source of all gifts. In our schools, students learn the love of Christ, providing them with purpose and dignity, and helping them to realize the worth of their brothers and sisters. As a theology teacher, I have seen lives transformed by the opportunities we provide for students to know God for themselves.
Local Catholic schools bring families serious about practicing their faith together. They are bastions of hope for raising our children within an atmosphere of love of God and neighbor. When we close the doors to these institutions, these families are scattered, leaving the embers of hope to lose their flame, not having one another to keep each other warm and bright in the enveloping darkness.
We cannot expect our schools, especially those that serve the poor, to operate independently of parish or diocesan support. Thanks to priests, brothers, and sisters who have given and continue to give of themselves prayerfully and sacrificially in following a vocation to serve, our schools have thrived. Now, faced with the reality of continuous school closings, our leaders, lay teachers and parents are challenged to respond to the question of where to go from here. However, this issue is not confined to those already involved with our schools. All the faithful, bishops to parishioners, must make the continued presence of Catholic education the priority of the present time. Are we willing to carry the torch of religious orders that founded our schools, to willingly pray and sacrifice for the shared mission.
In Catholic social doctrine we have a word for tending to the needs of the most vulnerable, the preferential option for the poor. In our economy and among our ministries, our Catholic schools are the most vulnerable and deserving of our attention. For families on the economic margins, having an accessible Catholic education is a necessity to gaining access to opportunities normally reserved for those in well-to-do neighborhoods. A quality education brings us closer to an equitable society. A Catholic education brings us closer to God.
Why not call to mind our duty to our young people and their families by praying for Catholic schools at every Mass, every week? Is it possible to hold more collections for our Catholic schools? Can we nurture more partnerships between struggling inner city schools and their counterparts and parishes in surrounding areas? Can priests and bishops who support Catholic schools encourage their fellow priests and bishops to do all they can to keep Catholic schools open?
Jesus' Great Commission states clearly that our primary work is to evangelize. This past year, the students in my sophomore theology class, in the spirit of the Great Commission, set out to share the Gospel with students younger than themselves. Students wrote stories from the perspective of Biblical characters who were changed by encountering Jesus. We then traveled to local elementary schools, reading the stories in small groups, presenting stories as a one-man show or rapping to the entire class. We encountered a receptiveness to the Gospel that is rare in the public domain. We could sense the openness that the students had toward the message, to us as visitors and to their teachers. Sadly, one of the schools we visited, the one serving a low income community, was forced to close this Spring. Nine other schools in our diocese alone also were closed or consolidated. I wonder what will happen to those students and their families. I wonder what will happen to our Church and our ability to transform society.