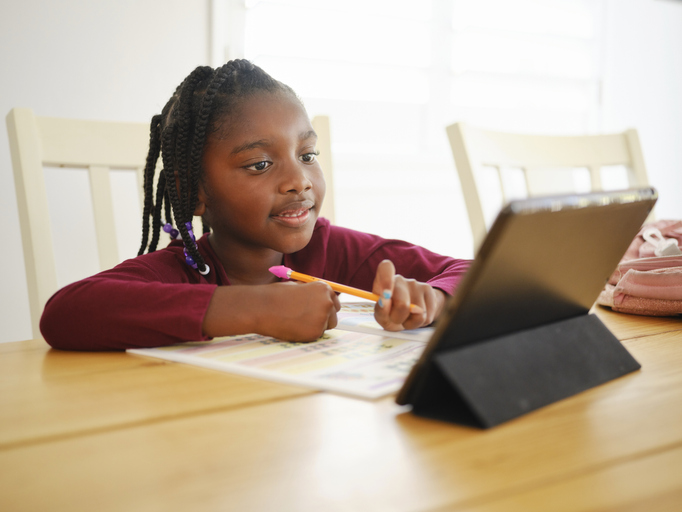 The following blog was contributed by Jill Annable, executive director for academic excellence at the National Catholic Educational Association (NCEA) in Arlington, Virginia.
The partnership between Catholic schools and the families we serve has undoubtedly strengthened in the past year. Live video feed has welcomed Catholic teachers into the homes of their students. Parents have expressed a strengthening of their own personal faith lives through participation in the school's daily prayer rituals, overhearing the virtual preparation of their children's upcoming Sacraments, and through the work as daily facilitators of their children's Catholic education.
We all recognize, however, that it hasn't all been sunshine and roses. Students learning from home hasn't been easy. Most families never imagined setting up school-like workspaces with strong WiFi signals throughout their homes. The relationship between teacher and parent came to the forefront as whole school communities shared tips and ideas to make the 2020-2021 school year as seamless as possible.
One clear example of this school-home partnership is Our Lady of Mercy School in Potomac, Maryland. Led by Mrs. Doreen Engel, Our Lady of Mercy School prioritized procedures for safe reopening plans in Fall 2020, offering in-person learning. However, like many Catholic schools, distance learning was also inevitable for some families and for entire classes at times throughout the first semester of 20-21.
To assist families who would be learning virtually, parents at Our Lady of Mercy School offered Distance Learning: Best Practices and Helpful Tips to their fellow virtual families. The tips include various home workstation set-ups, routines in family life, and communication strategies to reduce confusion and stress. The goal of this era certainly is not perfection, yet in sharing strategies that work, families can strengthen the opportunities before them for various forms of distance learning in our schools.
Catholic school families continue to amaze me. We have witnessed resilience and dedication to the common good throughout the pandemic, including the family's commitment to Catholic education. We are grateful for this commitment and are humbled by the ways Catholic school communities continue to strengthen their members.