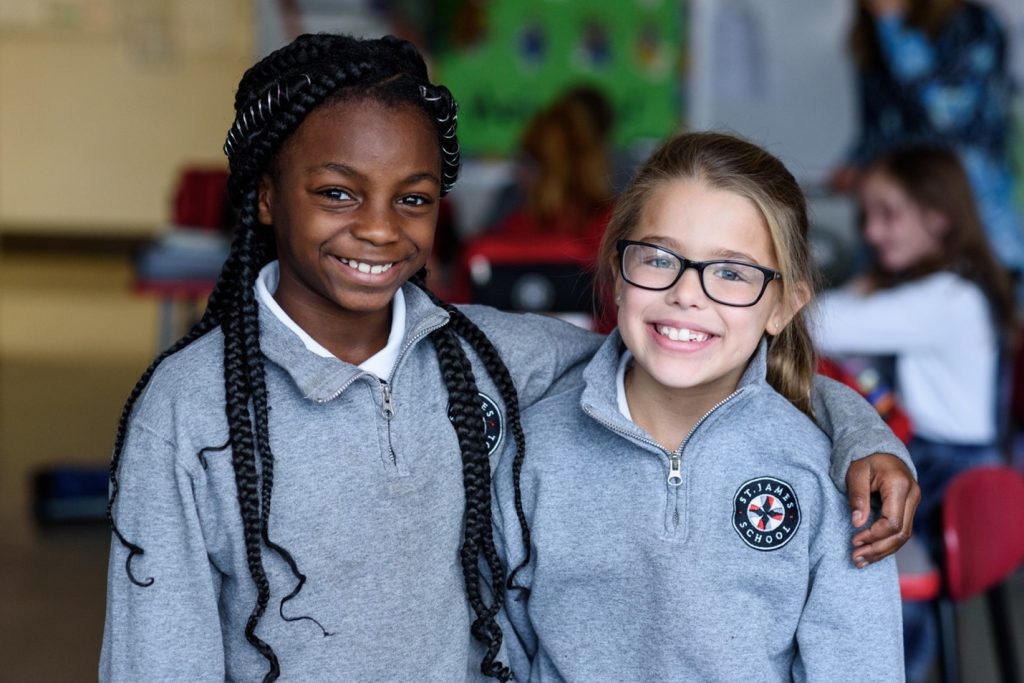 The following blog was contributed by Amelia Riedel, Senior Consultant for FADICA, (Foundations and Donors Interested in Catholic Activities), which partners with NCEA to support the sustainability of Catholic schools. (Photo courtesy of St. James School, Archdiocese of Cincinnati.)
One of the most important lessons that I think we have learned from the pandemic is the value of community. Throughout history, our Catholic institutions have been at the center of healthy communities and I believe that our Catholic schools are well-equipped to provide the connections and social support needed to assist families throughout the duration of the pandemic.
The increased need for social support and community during the pandemic prompted many parents to consider alternative educational options. A number of Catholic schools across the country experienced an influx of new students this fall, particularly in regions where public school systems remained in remote learning. This activity prompted us to ask some key questions:
"What factors influenced parents to transfer students to Catholic schools?"  
"When the pandemic ends, will the transferred students remain in the Catholic schools?"
"What can Catholic schools do now to retain these families for the next school year and beyond?"
FADICA and NCEA have been researching the answers to those questions in relation to their 2018 study of parents' perceptions of Catholic schools: The Catholic School Choice: Understanding the Perspectives of Parents and Understanding Opportunities for More Engagement. The study focused on parents who did not have a child enrolled in a Catholic school in order to understand the factors that drive the decision process when choosing a school.
The 2018 study revealed these key findings:
More than half (51%) of all parents reported that they are willing to consider Catholic school. If the parents were Catholic, the rate of consideration increased to 77%.


Of the parents with students in a public school, 42% reported that they were not satisfied with public school education, with common complaints of over-crowded classrooms, criticisms of the common core curriculum, and the lack of character development.
The top three factors that influenced a parent's consideration of a Catholic school were:

Provides a good balance between academics and religious teachings;
Creates a diverse learning environment where everyone is welcome;
Provides strong character development, with an emphasis on community service.



Although affordability may be a barrier for parents considering a Catholic school, the study revealed that 68% of Catholic parents felt confident that they could afford a Catholic school. This confidence increased with awareness of tuition assistance programs through school-based or state-funded school choice programs.
Recently FADICA partnered with the team at Meitler to conduct a sample survey of parents who had transferred their students to a Catholic school this fall, which revealed that:
The majority of families who transferred into Catholic schools this fall were Catholic (73%), and reported a household income of $100,000 and up (63%).


In addition to the top factors from the 2018 study, additional factors rose to the same level of importance for considering a Catholic school, including:

Encourages independent and critical thinking
Offers a challenging academic curriculum
Has highly trained faculty and staff
Uses the latest technology and teaching tools
Since the applications for tuition assistance and school choice programs are often requested several months prior to the start of the next school year, it is not surprising that the parents with a higher level of resources were best equipped to quickly pivot their educational plans during the pandemic. However, an opportunity still exists for schools to build awareness of tuition assistance programs available to families who may feel less confident about the affordability of Catholic schools.
The fact that most Catholic schools were open for in-person learning this fall may have been a primary driver for bringing new students in the door. Once the new students and families experienced all that Catholic schools had to offer, the majority of them (87%) said they are planning to stay, and 90% of parents said they would recommend the school to a friend or colleague. The effectiveness of this "word-of-mouth" marketing may be enhanced through the school's ability to promote its strengths, especially when correlated with the key drivers of consideration discussed earlier.
In order to obtain more actionable data, we encourage schools to conduct their own parent satisfaction surveys with a special focus on new families. Collecting this information at this point in the school year will allow school leaders to capitalize on strengths and address any concerns that may impact student retention.
Though our study was based on a smaller sample, similar findings were discovered with the NCEA study on transfer students. NCEA plans to share those results in detail via webinar on January 27.
To learn more about FADICA's Catholic Education Initiatives, visit: fadica.org.