The following article was contributed by Naomi Mayor, Director of Campus and Community Education Programs at the Anti-Defamation League.
Building Ally Behaviors is a new, free online course to help 3rd-7th grade teachers maintain a positive classroom environment that is safe and inclusive so that all students can learn and thrive. The 20 minute course, from the Anti-Defamation League's A WORLD OF DIFFERENCE® Institute, takes you through a process to help students move from being bystanders to using ally behavior. In the interactive course, you will meet a diverse group of upper elementary and middle school students who are faced with bullying behavior. You will define bullying behaviors, identify the different roles in bullying situations, and learn how to break the stigma of reporting and create an ally culture. The course will take you through realistic challenges faced by young people and identify effective, practical strategies to build ally behaviors. In addition, the course provides ideas for next steps, additional bullying prevention resources from ADL and a certificate of completion.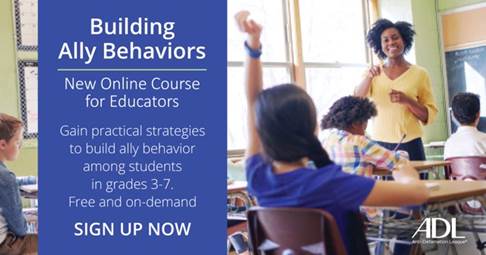 The first 50 educators to take the course and complete an evaluation will receive a free Anti-Bias Curriculum (for the grade level of their choice).