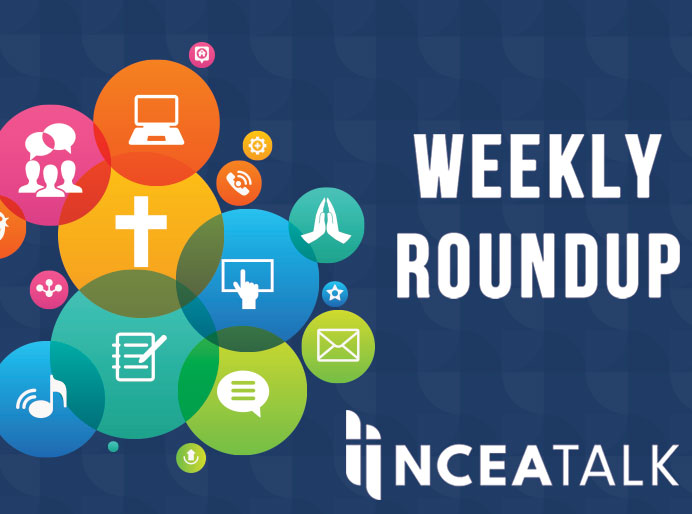 Didn't have the chance to check in with NCEA Talk each day? We've got you covered. Each Friday NCEA Talk will post a roundup of Catholic education news and resources from the week.
In case you missed it…
Supporting College Athletic Aspirations
What is the National Blue Ribbon Award?
NCEA 2018 Social Media Influencers Announced
Additional Resources:
Student to Student: A Catholic School Response for Hurricane Relief 2017 – #StudentToStudent
---
Catholic School Educators: Call to Discipleship
NCEA is pleased to share its new weekly reflection series "Catholic School Educators: Call to Discipleship" for the new liturgical year. This series shares reflections for educators contributed by Justin McClain, teacher at Bishop McNamara High School and author of Called to Teach: Daily Inspiration for Catholic Educators. The weekly reflections are a regular feature in our Friday Weekly Round Up blog posts on www.nceatalk.org – check back each Friday for a new weekly reflection.
Twenty-sixth Sunday in Ordinary Time – October 1, 2017
Gospel Reading: Matthew 21:28-32
"Yet, even when you saw that, you did not later change your minds and believe him."
A word that we frequently use in the Church is "accompaniment": we encourage others along on their journey toward the Lord. Teachers are in a unique position to be able to accompany our students as we draw them closer to the remarkable beauty of a life centered on the Gospel. Admittedly, some of them will come to him more readily than others. However, we must remain steadfast as we invite them all to consider the Lord's goodness.
Have you prayed for students who may challenge you because they do not yet know God's love?