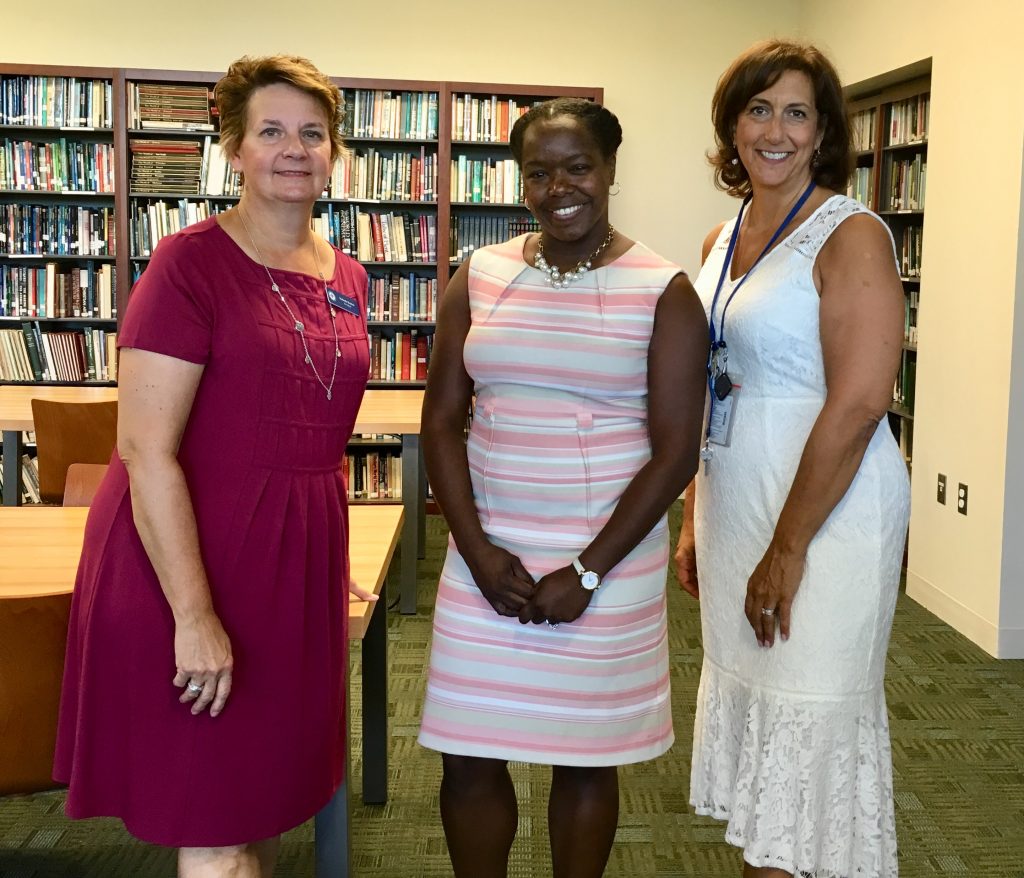 The Academy of the Holy Angels has reopened to students with the 2018-19 theme "Love gives everything" and the featured song "All Are Welcome," which reflect AHA's commitment to respect and unity within the school's diverse community. This fall, 30 students have launched a Diversity Council that will strive to value each individual's unique gifts, while AHA's administrators, faculty, and staff are being encouraged to be mindful of implicit biases.
In a special presentation at AHA, Notre Dame of Maryland University's Associate Dean for Inclusion and Community Standards Dr. Brandy Garlic discussed how implicit biases can derail one's conscious commitment to fairness.
"I think having a presenter like Dr. Garlic is another opportunity for us to focus on growing as a community and to be sure that every member of our community has a safe learning environment and where everyone feels respected," AHA President Melinda Hanlon stated.
Dr. Garlic urged AHA's adult leaders to identify susceptibilities to unwanted bias, practice mindfulness of how other people experience the world, speak up when policies are not working as intended, and mitigate the unwanted effects of bias.
"First be aware of your biases," Dr. Garlic stated. "We can't solve a problem without knowing what it is."
Although bias is a neutral term, it may indicate a positive or negative preference, Dr. Garlic said. She explained that people often rely on implicit, or unconscious, biases to fill in gaps when they are presented with incomplete information.
It's possible to form evaluations of people, places, things, and ideas based on inaccurate information and stereotypes, she noted, adding that these evaluations can be made even if those making them do not endorse a given stereotype. Judgments based on biases held outside of someone's conscious awareness can create barriers to equity.
"Our brains try to make sense of information based on stored memories, but we can have distorted, inaccurate, or incomplete information."
Every moment, we are bombarded with 11 million bits of information, but only 40 bits can be processed consciously, she shared.
"We rely on implicit cognition to move through the world."
Dr. Garlic noted that uncovering biases is critical to ensuring that intentions and impact align. She stated that people associate characteristics with the way individuals look and internalize these ideas at a young age. As a result, she underscored the importance of being mindful of what is being said to young people.
The speaker pointed out that implicit biases can emerge when there are cultural differences between students and their teachers. She added that, while the majority of teachers in the United States are white, their students are multicultural.
Demographic differences can lead to culturally influenced perceptions of student behavior, Dr. Garlic said. These differences can also affect what teaching methods are being used.
She cited a 2010 Stockoff study that revealed a connection between implicit bias and teaching style. The study involved white teachers and Arab students, and indicated that teachers with a pro-white bias were more likely to "teach to the test" with their Arab students. The study also indicated that teachers who used culturally responsive teaching and practiced respect for everyone tended to use mastery focused teaching practices with all of their students.
"The negative effects of automatic and unconscious biases can be interrupted or prevented," Dr. Garlic summarized.
"Understand your own bias," she stressed, adding that preferences can be revealed through an implicit association test that is available online and through brain imaging technology.
She recommended meaningful interactions with a diverse group of people, where the intergroup contact is cooperative, rather than competitive. Dr. Garlic also suggested exposure to counter-stereotypical people to help break patterns of generalization.
Dr. Garlic's presentation was organized by AHA Director of Mission and Ministry Joan Connelly, who is also serving as the AHA Diversity Council's adviser.
We want to continue to raise awareness about how some of the things we say and do impact others, Connelly said. She explained that she invited Dr. Garlic to speak so the awareness could begin with the adult members of the school community.
Connelly said the Diversity Council will honor the goals of the School Sisters of Notre Dame. She pointed to "You Are Sent," the SSND constitution, which states, "The true development of each person fosters both diversity and a potential for greater unity."
"I hope that it's something with a very broad vision," Connelly said of the council, adding that the new group will be working with existing AHA organizations, including the Black and Hispanic Club and the Asian Cultural Club.
"In the spirit of the School Sisters of Notre Dame, the Diversity Council will actively encourage the environment existing within the school that respects and values the dignity of each person, thus enabling her to reach the fullness of her potential. The Diversity Council works to support a community where uniqueness is appreciated and unity is valued," according to the group's mission statement.
To date, the council has 30 members in grades 10-12, and several freshmen have expressed interest getting involved.
Asked about the launch of the council, Connelly noted that the group will provide a voice for students. She said some students have expressed concerns over inappropriate words that surfaced on social media, and disrespectful behavior from the general public toward those who speak world languages. Connelly stressed that Holy Angels has chosen to make sure every student feels welcome and accepted for who she is.
---
Founded by the School Sisters of Notre Dame in 1879, the Academy of the Holy Angels is the oldest private girls' school in Bergen County. While AHA is steeped in Catholic tradition, this prestigious high school serves young women from a broad spectrum of cultural and religious backgrounds. Over time, thousands of women have passed through AHA's portals. Many go on to study at some of the nation's best universities, earning high-ranking positions in medicine, government, law, education, public service, business, arts, and athletics. The Academy's current leaders continue to further the SSND mission to provide each student with the tools she needs to reach the fullness of her potential—spiritually, intellectually, socially, and physically, by offering a first-rate education in a nurturing environment where equal importance is placed on academic excellence, character development, moral integrity, and service to others.