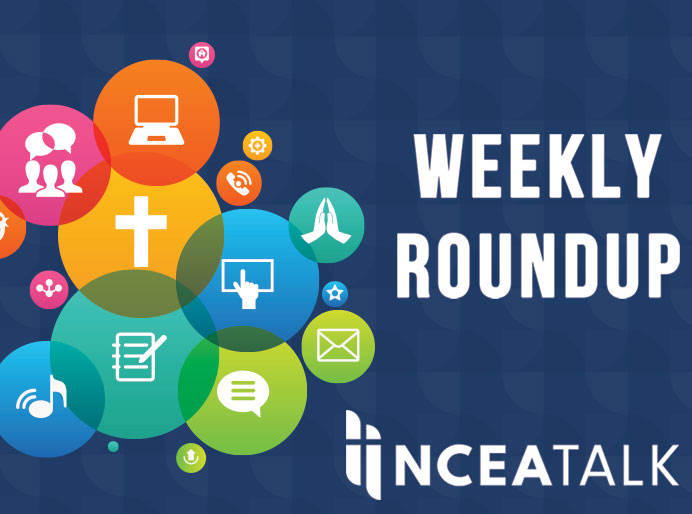 Didn't have the chance to check in with NCEA Talk each day? We've got you covered. Each Friday NCEA Talk will post a roundup of Catholic education news and resources from the week.
English Learners in Catholic Schools
NCEA Monthly Feature School: St. Teresa's Academy in Kansas City, MO
U.S. Secretary of Education Names Lakewood Catholic Academy a 2017 U.S. Department of Education Green Ribbon School
---
Catholic School Educators: Call to Discipleship
NCEA is pleased to share its new weekly reflection series "Catholic School Educators: Call to Discipleship" for the new liturgical year. This series shares reflections for educators contributed by Justin McClain, teacher at Bishop McNamara High School and author of Called to Teach: Daily Inspiration for Catholic Educators. The weekly reflections are a regular feature in our Friday Weekly Round Up blog posts on www.nceatalk.org – check back each Friday for a new weekly reflection.
Sixth Sunday of Easter – May 21, 2017
Gospel Reading: John 14:15-21
"Whoever has the commandments and observes them is the one who loves me."
Students do not necessarily like rules. In fact, in multiple situations, they will actively oppose them. However, we as teachers need to recall that this is human nature. Not that it is "OK," but it is still human nature. Jesus' commandments, which reinforce the Ten Commandments (see Exodus 20:1-17), are "rules" in a certain sense, but they are more than simply policies that we are expected to follow; rather, they are divinely imbued with love, in the ultimate interest of our soul's wellbeing. Leading our students to embrace God's expectations will only benefit them in the long run.
Are you leading your students to view the Lord's teachings as what will lead them to be more fulfilled?